Civil Rights Orgs Press Justice Department to Enforce Data Collection on Police Shootings
Nearly 100 civil rights groups say the Justice Department needs to withhold grants from police departments that refuse to fork over data.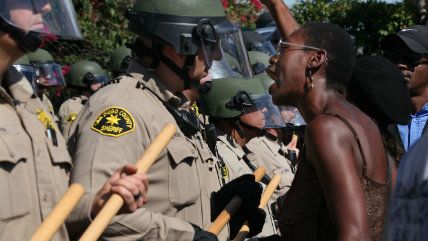 (Peggy Peattie/TNS/Newscom)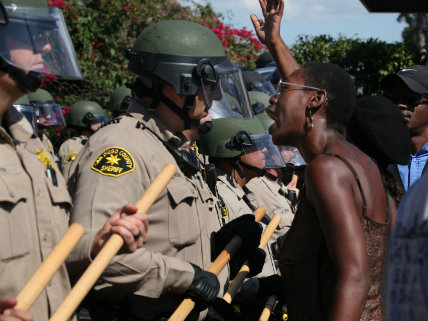 The Justice Department's proposed plan to track fatal police encounters doesn't do enough to force transparency among local police departments and shed light on the vastly undercounted number of deaths at the hands of law enforcement, a coalition of civil rights groups argue.
In a letter released Monday, the American Civil Liberties Union and nearly 100 other civil rights groups urged the Justice Department to put more pressure on local police departments to accurately report fatal police encounters and deaths in custody.
As HBO's John Oliver noted in his Sunday segment on the lack of accountability and data-collection on police activity in the U.S., the government tracks how many people are killed by falling televisions every year, but we don't know exactly how many people are shot by police. While the FBI is tasked with collecting data on police use-of-force, it is notoriously difficult to get the roughly 18,000 police departments across the country to voluntarily participate.
The solution, the civil rights groups argue in their letter, is for the Justice Department to tie criminal justice grants to accurate reporting. "The federal government awards close to $4 billion in such grants annually, and every discretionary grant should be conditioned upon providing data," the letter says.
In August, the Justice Department released its proposed implementation of the Death in Custody Reporting Act of 2013. While the groups said they were pleased to see the Justice Department moving forward with the program, they were concerned over the department's proposal to rely on "open sources" like media reports, augmented by data from police departments, to track individuals killed by police.
The Washington Post, Huffington Post, and Guardian have all invested significant resources into tracking police shootings and deaths in police custody over the past two years. Those painstaking efforts have been crucial to the ongoing discussion over policing in America and have revealed significant undercounts in federally reported data. For example, the FBI reported only 444 fatal police shootings in 2014, but the actual number is believed to be more than 1,000. Of those roughly 18,000 police departments, only 224 voluntarily reported any fatal shootings that year.
While the publications have done an admirable job of shedding light on police activity, relying on news outlets to do the federal government's job is not a long-term or even a desirable short-term solution, the civil rights groups argue. Those national media projects are largely informed by local news reports, which don't capture every death in police custody.
"Certain media outlets have been critical to understanding police-community encounters over the past year, but it is unlikely that national media attention and resources can remain focused on policing indefinitely," the letter says. "Thus, relying primarily on media accounts and statistics is an inadequate method of collecting data to determine the circumstances under which people die while in law enforcement custody."
The Justice Department did not respond to a request for comment for this article.
Other groups who signed onto the letter include the NAACP, Human Rights Watch, the Drug Policy Alliance, the AFL-CIO, and the National Association of Criminal Defense Lawyers.