Oakland Police Follow Up Internal Sex-Crime Investigation by Launching Anonymous Online System for Reporting Prostitution
Oakland aims to shame "johns" with an anonymous online reporting system that triggers police warning letters.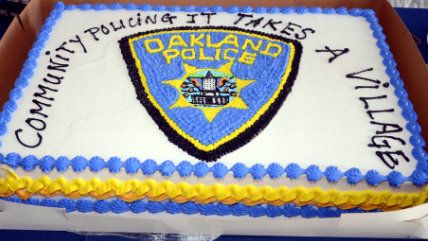 (Oakland Police Department)
"If you see something, say something" is how The New York Times characterizes an initiative to get Oakland, California, residents to play sex police in their neighborhoods. But a better slogan for the new program might be "do as we say, not as we do."
On Saturday, the Oakland Police Department (OPD)—which you might remember from its officers engaging in prostitution, statutory rape, exchanging legal favors for sex, and covering up coworkers' corruption—will launch a website where people can report the license plate numbers of suspected prostitution clients and describe the alleged sexual activity they witnessed. Police will then send a "Dear John letter" to the address where the vehicle is registered, informing residents that the vehicle was seen driving in a high-prostitution area and that "prostitution is not a victimless crime and is associated with kidnapping, human trafficking, and the sexual exploitation of children."
It's an astounding amount of hubris and hypocrisy coming from a department where officers themselves had not only been paying for sex (or trading tips and favors for it) but doing so with with a young woman who was under 18 when it started and said she met her first OPD john (who later killed himself) while fleeing an abusive pimp.
That woman, who has been using the pseudonym Celeste Guap, was later sent by the nearby Richmond Police Department to a Florida drug treatment center, arrested and jailed after three days there, and held on aggravated battery charges for 17 days. On Wednesday, she pleaded no contest to the reduced charge of misdemeanor battery and was released from jail. On Thursday, she appeared with her lawyer, Pamela Price, at a press conference at Oakland City Hall, where Price said that 19-year-old "Celeste" now wished to known by her real name, Jasmine.
Price also claimed that Oakland "police were engaged in a conspiracy to sexually traffic children. [Jasmine] is not the only one."
Even if OPD was squeaky clean, its latest anti-prostitution plan would still stink. The anonymous online system allows anyone who knows a target's license-plate number to easily fabricate shady behavior that will trigger an automatic punishment. The potential for abuse is immense.
But even absent outright fraud, the system invites false positives. Anyone idling in an area, circling a block, picking up a young woman, or beckoning someone to their car for whatever reason could find themselves on the wrong end of nosy neighbors' imaginations and police insinuations. And while an insinuating letter might be no big deal for some, imagine the baseless suspicion and havoc this sort of thing could wreak among couples and families.
Visitors to the new OPD website, reportjohn.org, will be informed that "this website allows you to report vehicles soliciting or attempting to engage in illicit sexual activity. Based on information you provide, the Oakland Police Department will send a letter to the registered owner stating that the vehicle has been observed in an area known to have high incidences of sexual exploitation and trafficking."
"This form will take you less than two minutes to complete," police add encouragingly.
Oakland tried a similar initiative in 2012, but reports had to be filed via a paper form. In 2005, the city plastered the mugshots of people arrested for soliciting sex on local billboards and bus shelters and also installed surveillance cameras along a busy boulevard known for prostitution activity. As you might imagine, both programs were controversial. And they did little to actually help vulnerable people, said detractors.
Nola Brantley, then executive director of a nonprofit agency for sexually exploited minors, pointed out that public john-shaming has negative consequences for the whole families of those in the spotlight. "I think the women and children in their lives have enough to deal with," Brantley told Oakland North. "You can't use shame as a tactic—it doesn't change behavior."
Meanwhile, in nearby Richmond—where officers were also implicated by Jasmine—the mayor has been busy defending the Richmond Police Department's decision to send Jasmine to a care facility across the country with state victim's compensation fund money. "You don't want somebody with a drug problem to be hanging around the old neighborhood," Richmond Mayor Tom Butt told CBS San Francisco. "Getting somebody out of their environment seems like a good idea." Butt accused Jasmine's lawyers of "grandstanding for their own selfish reasons."