Anthony Fisher Talks Confidential Informants on The Bob Zadek Show
Andrew Sadek case, previously covered by Reason TV, is the focal point of radio show conversation.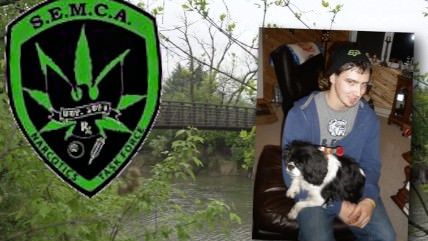 This past Sunday, I spoke with Bob Zadek on his San Francisco-based radio show about the police practice of using non-violent first-time offenders as confidential informants (C.I.) in criminal drug investigations.
Much of the conversation centered on the case of Andrew Sadek, a 20-year-old North Dakota college student who in 2014 was found floating in a river, with a gunshot wound to the head, wearing a backpack full of rocks. Sadek was a mild-mannered farmboy, who unbeknownst to his family and friends, had been working as a confidential informant. (I covered Sadek's case in an award-winning Reason TV documentary/article in 2015.)
Sadek—initially arrested for selling small amounts of marijuana to a confidential informant on his college campus—was threatened by police with 40 years in prison if he did not turn informant. Sadek's parents were never informed of his arrest or his work as a C.I., and after his body was found, police reportedly tried to convince them that their son had committed suicide. His parents have filed suit against the police for fraud and negligence.
There is much more to the story, which Zadek and I address in detail during the nearly hour-long conversation, which you can listen to below via Soundcloud or click here for Itunes and Stitcher links.
Also, you can watch my original piece on Andrew Sadek's tragic case below: