Winery Fights Utah's Laughably Awful 'Zion Curtain' Rule
The law requires blocking the view of alcohol being mixed or poured.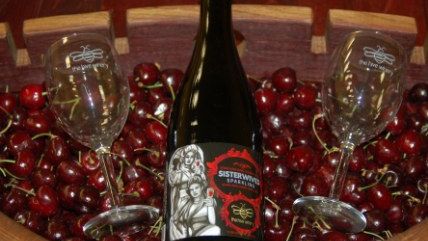 Since 2010, The Hive Winery, in Layton, Utah, has used local fruits and honey to create its award-winning fruit wines.
The Hive has also demonstrated a unique penchant for stinging the powers that be.
In a state where Mormonism dominates, The Hive produces two cherry wines, the polygamy-themed "SisterWives" and "Bishop's Daughter," the label of which shows a topless, tattooed blonde woman in a tub above an entreaty to "give this cherry a try!"
Recently, the winery decided to take on Utah's Zion curtain, a mandatory "7-foot-2-inch opaque barrier that newer restaurants must have in bar areas so children [and anyone shorter than Greg Ostertag or Mark Eaton] can't see alcoholic beverages being mixed or poured."
The Zion curtain, which gets its name from Mormon scripture, "forces many restaurants to erect physical barriers between customers and bartenders," I wrote last year. "The reasoning? Elected officials in Utah fear that 'letting the public see drinks being prepared would lead to more alcohol sales and more alcohol consumption.'"
In an act reminiscent of anti-communist graffiti painted on the Berlin Wall, Jay Yahne, who owns The Hive, has turned the tool of state oppression, his winery's unwelcome Zion curtain, into a canvas for bold protest against that oppression. In large type, the message on Hive Winery's Zion curtain says Utah's Department of Alcoholic Beverage Control is "Doing As Bishop Commands," a reference to what he sees as the church's entanglement with the state.
Yahne told Salt Lake City's Fox affiliate that ""those in Utah who don't believe the Mormon church controls what is done in Utah… are naive."
The winery also uses the space to promote one of its own wines, the aptly named "Zion Curtain." Yahne says he's simply exercising his First Amendment right. The alcohol control folks haven't yet challenged that right (at least as pertains to Yahne's protest).
The Zion curtain has been controversial since it was adopted last decade. Polls have shown Mormon and non-Morman Utahns alike oppose the Zion curtain. A bill that would have torn down the curtains, sponsored by Utah State Sen. Jim Dabakis (D-Salt Lake City), which he's labeled "weird," "awkward," "annoying," and "miserable," failed to pass this year.  (I agree with Dabakis, though I've preferred "sheer idiocy.") Instead, lawmakers will "study" the issue. Previous efforts to rescind the 2009 law have also fallen short.
Mormon Church leaders, who don't imbibe, perhaps not surprisingly, don't see the Zion curtain as a big deal for those who do.
"How important is it to see your drink being made?" asks a 2014 Mormon Church video defending the Zion curtain. "Does it really matter, as long as you get what you ordered?" Left unsaid, of course, is that the only way to see if you've gotten exactly what you ordered—to determine whether you're the person who took your top-shelf order instead poured you from the rail—is to see it being made.
"It's an absurd law and I'm glad to see the winery protesting it," said Jacob Grier, the author of Cocktails on Tap: The Art of Mixing Spirits and Beer, who also tends bar in Portland, Oregon, and is a frequent Reason contributor.
"Watching cocktails being prepared is a point of interest for drinkers, and more importantly, it's a spur to education. I've had countless conversations with guests that begin with them asking what I'm making or what's in a bottle they've never seen before. Those interactions encourage them to widen their horizons and try new things."
This is an important point that appears largely to have been lost so far in debates over the Zion curtain. Beyond legitimate concerns that the person pouring your drink could either be shorting you (by pouring you a lesser tipple than you paid for) or hurting you (by adding something harmful into your drink), the Zion curtain harms the art and aesthetics of crafting a drink. And in so doing it restricts the free expression rights of bartenders and drinkers alike. 
But does the law make Utahns safer? 
The Mormon Church bases its arguments in favor of the law largely on figures it says show that Utah has both strict alcohol laws and the lowest number of traffic-related alcohol deaths per capita in the United States. But that's a cherry-picking non sequitur. In fact, according to CDC data, Utah's percentage of alcohol-attributable deaths, 3.7 percent (from acute causes, including traffic deaths, and chronic causes, including alcoholic liver disease), ranks above the national average of 3.6 percent. In this important measure, Utah ranks behind New Jersey, Ohio, Rhode Island, Tennessee, Kentucky, Maryland, Iowa, West Virginia, Nebraska, Alabama, Hawaii, Illinois, Kansas, Louisiana, Mississippi, North Dakota, and other states.
That may be because, as I've noted, previously, the Zion curtain and other strict alcohol laws in the state encourage people who might have opened a restaurant to instead open a bar.
"The expensive and impersonal Zion curtain is pushing more Utah restaurants to convert into bars, which are not subject to the rule," I wrote in a 2015 report for the Institute for Justice. "That means a law intended to crack down on alcohol sales and consumption is responsible for creating more establishments devoted to drinking alcohol."
Utah's Zion curtain is one of America's worst and most ineffective food laws. This weekend, please join me in toasting The Hive Winery, Utah State Sen. Jim Dabakis, and others who are fighting the law.