Why Are the Feds Using the Civil Rights Act to Stop N.C.'s Transgender Bathroom Law?
A decision forbidding gender stereotyping gets stretched by court rulings.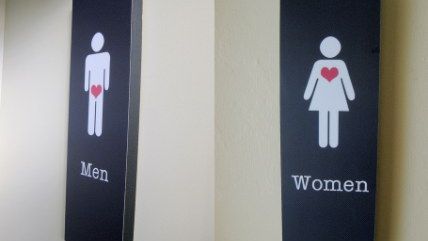 (Mo Kaiwen 莫楷文 / photo on flickr)
The Department of Justice is attempting to intervene in North Carolina over the state's passage of a law that (among other things) requires transgender people to use restrooms in government buildings and schools that matches the sex listed on their birth certificates.
DOJ Principal Deputy Assistant Attorney General Vanita Gupta has sent North Carolina Gov. Pat McCrory a letter warning him that the recently passed HB2 violates Title VII of the Civil Rights Act of 1964, saying the state is "engaging in a pattern of practice of discrimination against transgender state employees."
It may seem a bit odd to try to claim North Carolina is violating the Civil Rights Act here. There is nothing in Title VII that directly offers protection on the basis of gender identity. Indeed, part of the push for the Equality Act is to add gender identity and sexual orientation to existing federal civil rights laws.
But there have been some court precedents that the Justice Dept. is attempting to bring into play here. The foundation is a Supreme Court decision from 1989, Price Waterhouse v. Hopkins. In that case, the Supreme Court ruled, 5-3, that "gender stereotyping" in the workplace could be considered as grounds for a sex discrimination complaint (it also reduced the threshold of evidence necessary to prove discrimination). The case involved a woman who claimed she was denied promotions because she didn't behave femininely enough.
This, again, doesn't seem like it would necessarily have anything to do with transgender accommodations, but subsequent to this decision there have been a handful of federal level cases that have built on the idea that discrimination against transgender people is fundamentally discrimination on the basis of whether somebody complies with gender stereotypes. Julian Sanchez wrote about a couple of these cases at Reason back in 2005, and they're referenced in Gupta's letter to McCrory.
Agencies like the Department of Justice and the U.S. Equal Employment Opportunity Commission (EEOC) have decided to push for this interpretation as the law. Note that thus far, the cases the Dept. of Justice refers to are all cases where government agencies are the ones accused of discrimination, everybody from the Library of Congress to the City of Cincinnati, to the Department of Justice itself under former Attorney General Eric Holder.
The Justice Dept. is attempting to force North Carolina to stand down by threatening federal funding, and giving the state until Monday to declare it won't implement the law (which strikes me as opening up a completely different can of legal worms) or face a lawsuit.
At the moment it doesn't appear that McCrory is going to fold, but pressure during an election year (he's being challenged by the state's Democratic attorney general, who is refusing to defend the law) can cause all sorts of things to happen.
It seems likely that, should the Justice Dept. and the EEOC keeping pushing the law the way they have been, this is going to have to end up before the Supreme Court. While it seems obvious that it was never the intent of the Civil Rights Act of 1964 when it was passed to protect transgender people, the differing opinions are begging for a high court interpretation.