Counter-Programming Alert: Watch Matt Welch Debate Mandatory Salary Transparency on PBS Tonight!
Check local listings for the late-night public-TV debate show in which Boston liberals occasionally get to vote on libertarian arguments!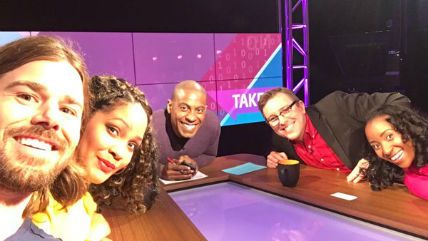 A month ago I was happy to take part in the premier of a new PBS late-night chat/debate show called Point Taken, in which two teams of two debaters get on either side of a single question, and a studio audience votes before and after to see whether the debaters changed their views. The first episode was about whether the American Dream was dead…and I lost!
Tonight's episode, which airs at 11 p.m. in most media markets (check your local listings!), is about whether employers should divulge (or should be forced to divulge) all their employees' salaries. I will be taking the "no" side. Here's how they tee it up:
President Obama has taken action to increase pay transparency among federal contractors. The Equal Employment Opportunity Commission, which enforces laws prohibiting employment discrimination, recently issued a regulation requiring large companies to disclose aggregate salary information in their annual informational filing. And states have been taking action as well, with California and New York enacting legislation to support pay transparency efforts.

Their primary goal is to eliminate the gender wage gap. Currently, in the United States, women earn approximately 21 percent less than men.
You can imagine that I would have some opinions about this issue. I mentioned some of them in this Facebook preview from the control room:
Joining Team Libertarian is Patrice J. Lee of Generation Opportunity and the Independent Women's Forum; on the let-them-eat-spreadsheets side is tech entrepreneur Dan Price, who made industry waves by establishing a minimum-wage salary at his company of $70,000; and GIFer extraordinnaire Ijeoma Oluo.
Tune in to see how I do! INC.com has a pre-write here.