'Serial Child Molester' Dennis Hastert Gets 15 Months for Something That Shouldn't Be Illegal
The former speaker of the House can no longer be prosecuted for his real crimes.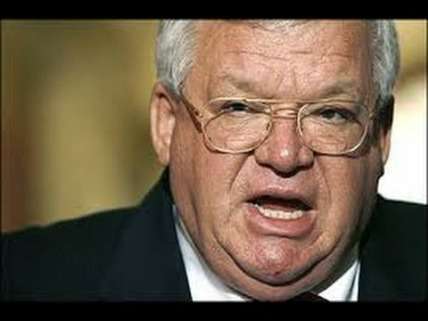 Last week former House Speaker Dennis Hastert was sentenced to 15 months in federal prison, ostensibly for a single count of evading the Bank Secrecy Act's reporting requirements by withdrawing money in amounts below $10,000. I say "ostensibly" because Hastert's real crimes were committed decades ago, when (as he now admits) he sexually abused teenagers on the wrestling team he coached in Illinois. But since the statute of limitations for those crimes has expired, it is only the coverup for which Hastert can legally be punished—specifically, for paying hush money to one of his victims in a way designed to avoid the government's attention. That "structuring" charge became a pretext for giving Hastert a taste of the punishment he might have received if his sexual abuse had come to light sooner.
"Because the statute of limitations for your child molestation ran out many years ago," U.S. District Judge Thomas Durkin observed during the sentencing hearing, "you can't be charged for that. It's not what you were charged with, it's not what you've pled guilty to, and any sentence I give you today will pale in comparison to what you would have faced in state court."
Still, the penalty that Durkin imposed far exceeds the zero to six months recommended by federal sentencing guidelines and the maximum sentence (six months) that prosecutors agreed to seek under their plea deal with Hastert. The reasons that Durkin gave for departing upward from the guideline sentence and the one recommended by the government—something he said he has done in only two out of 45 cases he has overseen in his three and a half years as a federal judge—have a lot to do with the crimes that Hastert officially got away with.
"Were this only a case about structuring of funds which were legally obtained and taxed," Durkin noted, "there is some question whether the prosecution would have occurred. And even if the prosecution had occurred, a sentence of probation would likely be appropriate." Hastert's lawyers asked for probation, which is the usual outcome in structuring cases involving defendants who earned the money legally, paid taxes on it, and used it for legal purposes, especially when the defendant has no criminal history. Between 2010 and 2014, according to data that Durkin obtained from the U.S. Sentencing Commission, 66 structuring defendants fit that description, and only seven received sentences involving incarceration, with an average term of four months.
So why did Hastert get 15 months? Mostly because of crimes for which he cannot be prosecuted.
One of Hastert's victims and the sister of another (who died in 1995) testified at the hearing, during which Durkin repeatedly called Hastert a "serial child molester." The judge nevertheless insisted he was not punishing Hastert for sexually abusing high school students. Rather, Durkin said, he was taking into account the way that Hastert's sexual abuse of high school students reflects on his character and his motive for violating the Bank Secrecy Act—a pretty fine distinction.
"If I am going to consider the good history and characteristics of the defendant, I must also consider the bad, which is that the defendant is a serial child molester," Durkin said. "And the nature and circumstances of the offense include the child molestation because it was unquestionably the motive for the structuring and the lies that followed it."
Durkin said those lies also figured into Hastert's punishment, since he told the FBI the former student he was paying (who received $1.7 million of a promised $3.5 million) had fabricated his allegation of sexual abuse. Lying to the FBI is itself a felony, although not one to which Hastert pleaded guilty. "Accusing Victim A of extorting you was unconscionable," the judge told Hastert. "You tried to set him up. You tried to frame him." But even here, Durkin made note of the crimes for which Hastert can no longer be prosecuted. "He was a victim once decades ago," the judge said of the former wrestler, "and you tried to make him a victim again."
Durkin reserved most of his ire not for Hastert's recent violations of federal law—the ones for which he was officially being sentenced—but for his unpunished (and unpunishable) state crimes:
Some actions can obliterate a lifetime of good works. Nothing is more stunning than having the words "serial child molester" and "speaker of the House" in the same sentence. Nothing is more disturbing than having the words "child molester" and "coach" and "teacher" in the same sentence….

Your actions with the young people you abused violated the trust that students put in their teachers, their coaches, and their mentors. Your actions were cynical. You abused those who either wouldn't or couldn't cry out for fear they would not be believed and were trying to discredit a beloved coach, or for fear they would be ostracized by their friends….

Had this conduct been uncovered near the time when it occurred, a grand jury sitting in Kendall County would have indicted you, a jury likely would have convicted you, and you likely would have been sentenced to decades in a state prison….

This conduct is relevant to your history and characteristics no matter how old it is. Some conduct is unforgivable no matter how old it is….

My sentence today can't legally or properly be a sentence for child molestation, and I don't want it in any way to be perceived that the sentence here measures the harm caused by the child molestation. In the end, that would have to be a state court judge sentencing you for a conviction of child molestation, and the sentence in this case can never be as long as the time the victims and their families have suffered.
As Patrick Collins, a former federal prosecutor in Chicago, told The New York Times, "It's extraordinary that the case was on its face a cut-and-dried financial structuring case with the conduct acknowledged, but the sentencing was about everything, essentially, but the structuring." Legally, Durkin had the discretion to give Hastert a sentence as long as five years, and he said he would have imposed a term longer than 15 months if it weren't for Hastert's age and poor health. As Durkin noted, even five years is a fraction of the sentence Hastert probably would have received had he been convicted of sexual abuse in state court.
But Hastert wasn't convicted of sexual abuse, and that is no small matter for those of us who believe in due process and the rule of law. Instead he was convicted of something that should not be a crime at all—taking his own money out of his own bank account in amounts the federal government deemed insufficiently large.
"There should be no mistake that what the defendant did regarding the structuring laws was a crime," Durkin said. "It doesn't matter that it was his money, that it was lawfully earned, and it was properly taxed. The legislative history of the law, which I have reviewed, makes clear that the Congress intended the law to apply to your situation. There's no intent by Congress to draw a distinction between structuring where the money was derived from illegal transactions and schemes and money based on legitimately earned funds. The courts have held that intentional violations of the reporting requirements constitute criminal conduct regardless of the core legality of the money at issue." That law—which, Durkin notes, Hastert "had some role in passing" as a member of Congress—remains a moral scandal, even if it occasionally provides the means for punishing actual criminals who would otherwise escape justice.