The Lemonade Is $150. The Pot Is Free.
Exchanging marijuana "gifts" for "donations" is not, alas, legal in Washington, D.C.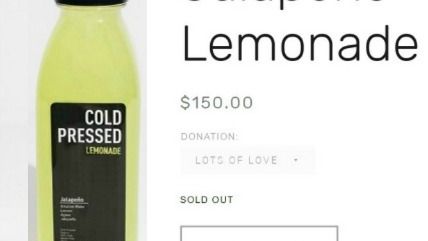 High Speed Delivery charges customers in Washington, D.C., $11 for 15 ounces of orange juice, which seems like a lot even if it's delivered to your door within 20 minutes. But for another $44, you can expect an eighth-ounce of marijuana along with your juice, which is not bad for a city where it's still illegal to sell the stuff.
You could do better in Denver, but D.C. is not Denver. Unlike Colorado's Amendment 64, the 2012 ballot measure that legalized commercial production and distribution of recreational marijuana, the District's Initiative 71, passed in 2014, legalized only home cultivation, possession, and sharing "without remuneration."
How does High Speed Delivery, which started in Oakland, California, and expanded to the nation's capital in January, get around that restriction? It doesn't, not really. But here is how it pretends to get around that restriction: When you order one of the service's beverages, which include six kinds of lemonade as well as orange and grapefruit juice, you choose one of three options: "just juice" ($11), "love" ($55), or "lots of love" ($150). The latter two "donations" will be rewarded with "gifts" of marijuana.
"Thanks to initiative 71," High Speed Delivery says, "it is perfectly legal to possess up to 2 ounces of dry consumable cannabis. We sell niche foods and drinks not cannabis. We give cannabis as a gift!"
Why didn't someone think of this before? Someone did, and a few weeks ago he could be found in D.C. Superior Court, pleading guilty to marijuana distribution. Like the folks at High Speed Delivery, Nicholas Cunningham saw opportunity in the gap between legal demand and illegal supply, but his business plan ran afoul of Initiative 71's limits.
For months Cunningham's service, Kush Gods, distributed edibles and flowers using cars emblazoned with images of marijuana buds, the company logo, and a phone number to call for deliveries. "The law says it's legal to give [marijuana] away," Cunningham told WTTG, the Fox station in D.C., last December, "so [cannabis consumers] donating to the company is just them excited about what's going on."
In an interview with New York magazine's Marin Cogan around the same time, Cunningham was a little more candid. "Of course it's a business," he said. "I have to explain that to donors at times, people thinking I should just give it to them for free. I've got to explain that we still have to keep the lights on, and we still have got to provide this service, so you can't just expect us to give this stuff away."
Cunningham, a 30-year-old native of Birmingham, Alabama, who lately has been living in Maryland, told Cogan his initial anxieties about trouble with the cops dissipated. "When I first got here, every day I was like, 'Oh shit, oh oh oh!'" he said. "Every time they passed by, even though I knew the law, I was nervous." But then the cops started joking with him about buying pot. "Even though they're joking," he said, "it's definitely a relief."
Cunningham was right to be nervous. D.C. police had begun investigating him two months before, in response to "numerous complaints from people about the blatant sales of marijuana." Undercover officers bought marijuana buds, which Kush Gods sold for $400 an ounce, and various edibles, including $10 brownies, from Cunningham's service. He was arrested 12 days after Cogan's New York piece appeared, along with his 18-year-old employee Evonne Lidoff.
Lidoff pleaded guilty to marijuana distribution in February. After initially insisting on the legality of his business model, Cunningham followed Lidoff's example. Matthew Von Fricken, Cunningham's lawyer, suggested in court that getting a bag of weed as a reward for a donation is similar to getting a tote bag from NPR. But he conceded that Cunningham "may have been a little ahead of his time."
Fortunately for Lidoff and Cunningham, the penalties for selling pot in D.C. are relatively light. Lidoff got six months of probation, while Cunningham got a suspended six-month jail sentence and two years of probation. Cunningham also was ordered to repaint his Kush Gods cars or store them outside the District with covers on them.
Cunningham might have avoided his legal troubles if he had paid attention to what happened in Colorado after possession and home cultivation of marijuana became legal at the end of 2012 but before legal recreational sales began in 2014. Like D.C., Colorado allows adults 21 or older to give other adults up to an ounce of marijuana at a time "without remuneration." Various people tried to make a profit off that provision by charging for delivery of "free" marijuana, offering marijuana as a bonus for purchasing something else, or describing payments as "donations."
Cops and prosecutors did not buy it. In January 2013, for instance, Colorado Springs police busted three guys for running Billygoatgreen MMJ, which was giving away marijuana while accepting "suggested donation[s] towards researching [marijuana] and improving our cultivation operation." The suggested donation for a quarter-ounce of Sour Kush, for instance, was $55. A spokeswoman for Attorney General John Suthers told the The Denver Post such operations were clearly illegal, since "distributing marijuana in exchange for suggested donations is a scam to get around the laws against the sale of marijuana."
High Speed CEO David Umeh, who says he has more than 300 customers in D.C., argues that his approach is different because he is selling something other than cannabis products. Kush Gods "never had an item that was not cannabis-related," Umeh told DCist earlier this month. "We're a juice delivery startup. We have a lot of people that literally buy just juice."
That may be true, but the test of whether a transaction counts as a sale is whether there's a quid pro quo. High Speed customers get pot only if they make specified "donations," and the amount of pot is proportional to the amount of the donation, which suggests these transactions are thinly disguised sales.
Don't get me wrong. I think it's absurd that D.C. residents are allowed to consume cannabis yet are not allowed to buy it anywhere. But the solution lies with local legislators, who abandoned plans to allow commercial production and distribution because of objections from Congress. Omnibus spending bills enacted in 2014 and 2015 bar the District from using the funds they appropriate to license and regulate marijuana merchants. But those riders do not apply to money from earlier fiscal years, which gives the D.C. Council an opening to proceed with its plans. Unlike pretending that purchases are gifts, it's a loophole that could actually work.
This article originally appeared at Forbes.com.