Influential Washington Post Database on Police Killings Wins Pulitzer
Project helped push for federal reform to get more accurate info.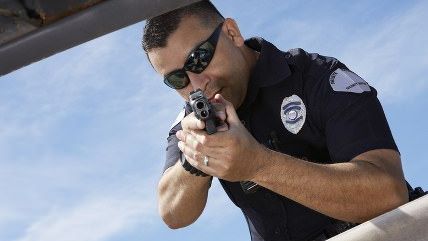 (Photographerlondon | Dreamstime.com)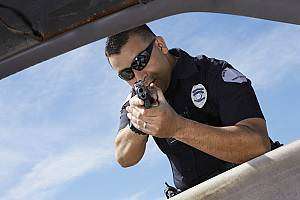 The 2016 Pulitzer Prize winners were announced this afternoon. While it's likely that the musical Hamilton's drama win is probably going to get the bulk of media attention, take note of an important win for The Washington Post in its effort to track fatal shootings by police. The database and the reporting that went along with the research won the award for national reporting.
Sometimes Pulitzer Prizes may seem like very media-centric self-congratulatory awards for stories that appeal to the journalists' idea of what journalism should be (grandiose, exhaustive productions) rather than reporting that actually has significant public impact. That's not the case in The Washington's Post's project on deadly police encounters. Not only did it help draw attention to the significant gap in the accuracy of important data about police encounters, their push (along with a similar database by The Guardian) is actually leading to reform.
Even before The Washington Post embarked on this project, anybody who had an interest in observing national police behavior trends knew there was a big flaw in the data. The FBI tracks all sorts of crime information from law enforcement agencies around the country to keep track of trends in serious crime statistics. But the FBI doesn't have a remotely accurate system of tracking whenever police officers have a deadly encounter with citizens or suspected criminals. The FBI has a voluntary program of reporting police encounters that turn deadly, and many law enforcement agencies do not participate. As a result, federal statistics about police homicides are wildly off, far too low, and the system is not useful in helping tease out any trends that might be useful in figuring out ways to reduce the number of people that the police kill each year.
The Post's project independently counted every fatal police shooting in the United States in 2015 (there were 990 of them) and attempted to look for trends. Here's how The Washington Post described the fruits of their project when reporting their win today:
Spurred by [Staff Writer Wesley] Lowery's proposal, the project grew into one of the largest in the newsroom's history, said Cameron Barr, The Post's managing editor for news. It eventually involved some 70 journalists from the paper's national, investigative, metro, video, photo and graphics departments.

The police-shootings database — painstakingly assembled by researchers Julie Tate and Jennifer Jenkins from official and unofficial sources — included more than a dozen details about each incident, including the age and race of the person killed, whether and how the person was armed, and the circumstances that led to the encounter with police. It soon yielded new insights into the use of deadly force by the nation's police officers.

The data showed, for example, that about one-quarter of those fatally shot had a history of mental illness; that most of those killed were white men (although unarmed African Americans were at vastly higher risk of being shot after routine traffic stops than any other group); and that 55 officers involved in fatal shootings in 2015 had previously been involved in a deadly incident while on duty.

Another important finding: The vast majority (74 percent) of people shot and killed by police were armed with guns or were killed after attacking police officers or civilians or making direct threats. This finding countered the impression left by several high-profile fatalities that police routinely use excessive force.
After seeing the information The Washington Post was carefully gathering, the FBI decided that it needed to revamp and expand its own reporting system and used the Post's system as a springboard. Eventually, we may get better, more accurate information about deadly police encounters. Program participation will still be voluntary (unless Congress mandates data-gathering) but may end up being more a more inclusive and accurate tool if all goes well.
Read about the other Pulitzer Prize-winners here.