U.S. Sending More Troops to Iraq, British Airliner Hits Drone, Supreme Court Hears Deportation Policy Arguments: P.M. Links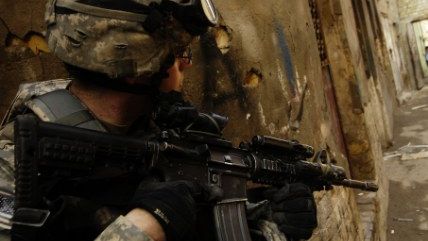 Credit: U.S. Army

The U.S. is sending 200 additional troops to Iraq, bringing the total number of American military forces there up to 4,087.

A British Airways passenger plane landing at Heathrow in London appears to have struck a drone while approaching the airport but was not damaged.
The Supreme Court seemed sharply divided today during arguments as to whether the president has the authority to defer the deportation of immigrants in the United States illegally.
Also today the Supreme Court declined to hear a copyright case against Google's effort to scan in books for people to read and access online. It leaves in place a ruling in favor of Google.
Thousands of people in California will not be able to vote in the state's Democratic primary because they registered (probably accidentally) as belonging to the "American Independent Party" instead of as unaffiliated independents. Democrats in California allow non-affiliated voters to vote in their primary. By declaring themselves members of the American Independent Party, they inadvertently joined a third party instead.
A student was removed from a Southwest Airlines flight apparently for speaking Arabic while sitting in his seat on the plane.
The Pulitzer Prizes were announced for 2016, the 100th anniversary of the awards. Among the winners were the Los Angeles Times for their coverage of the San Bernardino shootings, The Washington Post for its coverage of police shootings, and the musical Hamilton.
Follow us on Facebook and Twitter, and don't forget to sign up for Reason's daily updates for more content.