Fresno Police Sued Over Shooting and Killing a Man "Armed" With Garden Hose Nozzle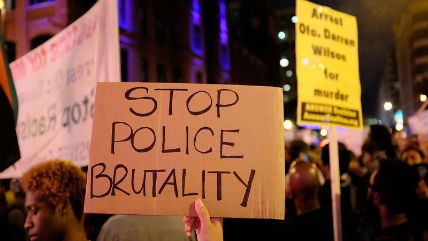 Fresno police officers Zebulon Price and Felipe Miguel Lucero drove up to Freddy Centeno last September as he stood on a sidewalk. They got out of their car, from what looks like 5 yards or so away, and shouted "Hey Fresno PD! Get on the ground! Get on the ground!"
Centeno is far enough away that I have no idea if it's likely he actually heard their specific words. They began shooting at him within three seconds of getting out of their car and shouting at him, 10 shots, seven hits.
It looks to me as if his hands remain near his side but not touching his pants, despite police insistence that he reached for and took out a gun like object from his pants. He has no shirt. I honestly can't tell if the garden hose nozzle allegedly mistaken for a gun that all the news reports talk about is in his hand or not, but both sides of the dispute agree it was at time of shooting. [UPDATE: Commenters have pinpointed the exact second they believe they see the taking of object out of pocket happening, 20-22 seconds in roughly. On closer and repeated examination I do agree that that's a reasonable interpretation of what we are seeing in the video
The officers continue shouting "put your hands up" at his bullet riddled prone (but not yet dead) body. Centeno died 23 days later from the wounds.
Video (with anti-police narrative) below:
Centeno's family filed a lawsuit against Fresno over the shooting earlier this week, and released a version of the shooting video.
Fresno Police Chief Jerry Dyer gave his own news conference yesterday, as Fresno Bee reports. He swears he sees Centeno reach into his pocket and grab a black object:
Dyer said he had watched the video at least 25 times, and each time he believed Centeno was drawing a weapon. He stressed that the information the officers had, based on a 911 call also played Thursday at the Dyer news conference, was that Centeno was armed with a small black handgun in the pocket of his shorts."

It turned out to be a painted garden hose nozzle.
Centeno, 40, had a history of mental illness and drug abuse, according to his family, and had had past interactions with Fresno police, though these specific officers were said to have been unaware of that.
Details on the 911 call being responded to:
Minutes before the officers confronted Centeno, police 911 dispatchers received a call from a woman saying a shirtless man had identified himself as a federal agent and threatened her with a gun. The woman describes the man who threatened her as a light-skinned Hispanic man with no shirt, black gym shorts, short hair, and tattoos on his arms and body. She tells the dispatcher that the man put the gun back into his front pocket.
Dyer feels that context makes the officers' decision justified. The suing family disagrees:
The attorneys said the purpose of the lawsuit was two-fold: To seek justice and restitution for a family that lost a father, brother and son, as well as to notify government officials of a major abuse of police power.

The lawsuit does not ask for any specific damages. Co-counsel Angel Carrazco of Santa Ana said the attorneys plan to ask jurors to award what they think is fair given the video evidence and the family's loss.

"We're lucky to have obtained this (video)," Guizar said. Police "usually make us jump through hoops."

Guizar said California law requires that officers fire only if there is an immediate threat – not a perceived threat.
The police seemed miffed the family's lawyers even got their hands on the video, which lawyer Cristobal Galindo says he got from the public defender's office, who had it as it was evidence in a case the city was going to pursue against Centeno had he not died from Fresno police shooting him.
The suit as filed, against the specific officers and the city.
A full report from the Office of Independent Review which found Centeno's shooting "within policy."