Colorado Springs Shuts Down Its Cannabis Clubs…in Eight Years
Unlike Denver, the city lets people use marijuana outside their homes.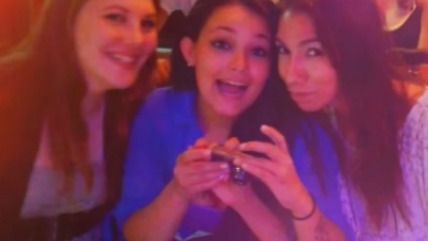 After Colorado legalized marijuana for general use in 2012, Denver became the center of the newly legal recreational industry, accounting for more than a third of the state's retail licenses. Yet local politicians in the state capital still have not seen fit to allow cannabis consumption in any setting other than private residences. Meanwhile, Colorado Springs, a considerably more conservative city that has banned the sale of recreational marijuana, boasts about 15 cannabis clubs. That surprising situation now has an expiration date: Thanks to a ban that the Colorado Springs City Council approved by a vote of 6 to 3 on Tuesday, the clubs must close by March 22, 2024.
The Colorado Springs Gazette says the ban's supporters complained that "many clubs charged 'membership dues' or collected 'donations' in trade for marijuana," thereby violating the city's ban on recreational sales. Such arrangements might also violate state law, depending on how clear the quid pro quo is. Under Amendment 64, Colorado's legalization initiative, adults 21 or older are allowed to give up to an ounce of marijuana at a time to other adults "without remuneration." But sales are limited to licensed stores, where on-site consumption is prohibited.
The legal status of bring-your-own-cannabis clubs is a matter of dispute. State law prohibits "consumption that is conducted openly and publicly," which does not seem to cover a private, members-only club. But Denver officials maintain that any business to which you can gain entry by paying a fee qualifies as open and public. A local ballot initiative proposed by two of Amendment 64's main backers would have changed that policy, allowing cannabis consumption in businesses that exclude people younger than 21. They withdrew that initiative last September in the hope of negotiating a compromise with the city council.
Since the Colorado Springs ban does not take effect for eight years, it may yet be reversed by the city council or by a local ballot initiative. Jayman Johnson, owner of the Speakeasy Vape Lounge and Cannabis Club on East Bijou Street, threatened to run against Councilman Keith King, a ban supporter who represents Johnson's district. According to the Gazette, King, who said he supported the ban mainly because residents currently have no say over whether clubs open in their neighborhoods, "urged cannabis club supporters to organize and get an initiative on the ballot to try to save their social communities."
Reason TV covers Colorado's cannabis consumption conundrum:
Last August I explained how the issue is addressed in the five jurisdictions that have legalized marijuana so far.