Donald Trump Repeatedly Refuses to Disavow Support From Former KKK Grand Wizard David Duke
Trump claims he doesn't know who Duke is. He did in 2000.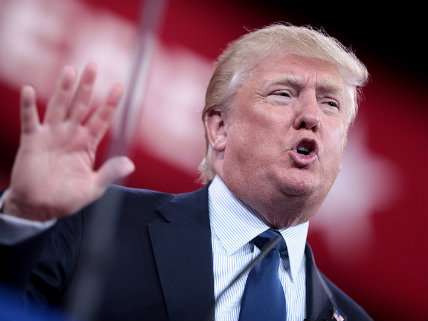 Over the course of his campaign, Donald Trump has managed to attracted openly racist supporters, including, most recently, David Duke, a former Ku Klux Klan (KKK) grand wizard who declared last week that voting against Trump would be "treason to your heritage."
So how does Trump feel about Duke's endorsement? Asked by CNN's Jake Tapper this morning whether he would disavow Duke's endorsement and the KKK, the GOP repeatedly declined to do, saying, instead, that he just didn't know much about David Duke.
Here's what Trump said:
I don't know anything about David Duke, OK? I don't know anything about what you're even talking about with white supremacy or white supremacists. So I don't know. I mean, I don't know — did he endorse me or what's going on? Because I know nothing about David Duke. I know nothing about white supremacists. And so you're asking me a question that I'm supposed to be talking about people that I know nothing about.
When Tapper followed up, clearly noting Duke's connection to white supremacy and the Ku Klux Klan, Trump again responded that he would "have to look at the group" before weighing in further.
I have to look at the group. I mean, I don't know what group you're talking about. You wouldn't want me to condemn a group that I know nothing about. I have to look. If you would send me a list of the groups, I will do research on them. And certainly I would disavow if I thought there was something wrong.
Watch here, via CNN:
.@realDonaldTrump won't disavow the KKK and says he wants more information https://t.co/M3oHFK1HCt #CNNSOTU https://t.co/1M0QYEODMV

— CNN Politics (@CNNPolitics) February 28, 2016
But Trump certainly knew who David Duke was in 2000. As The New York Times reported at the time, Trump declined to be a presidential candidate on the Reform Party ticket explicitly because of Duke's Klan connections:
Mr. Trump painted a fairly dark picture of the Reform Party in his statement, noting the role of Mr. Buchanan, along with the roles of David Duke, a former leader of the Ku Klux Klan, and Lenora Fulani, the former standard-bearer of the New Alliance Party and an advocate of Marxist-Leninist politics.

"The Reform Party now includes a Klansman, Mr. Duke, a neo-Nazi, Mr. Buchanan, and a communist, Ms. Fulani," he said in his statement. "This is not company I wish to keep." [via Justin Green]
Indeed, Trump seemed to know who David Duke was last Friday, when he gave a flip disavowal of the former Klansman's support: "David Duke endorsed me? OK, alright. I disavow, OK?"
Since then, Trump appears to have decided to play dumb about Duke and the Klan, and to pretend that he knows nothing about them at all. That's a lie, and it's a lie that tells you plenty about the kind of campaign that Trump is running.
(Correction: The New York Times piece is from 2000, not 1990. Apologies.)