Friday A/V Club: A Weed Grows In Brooklyn
An anti-pot song and an anti-pot crackdown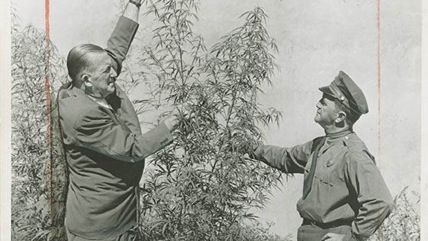 Aficionados of anti-drug songs should appreciate this anti-pot number from 1951. Recorded by a forgotten country act called Mr. Sunshine & his Guitar Pickers, its charms include the use of the phrase "just say no" way back when Nancy Reagan was still Nancy Davis:
Here's how Billboard covered the single when it was released:

I'm not certain what "recent headlines" the Billboard writer had in mind. But one big marijuana story that summer was a major crackdown on the pot growing wild (and sometimes growing with human help) around New York. Ben Gocker of the Brooklyn Public Library explains:
Brooklyn Public Library

In the summer of 1951 New York City was a marijuana jungle. From underpasses in the Bronx to empty lots on Avenue X, the razor-toothed fronds of 10 foot tall Cannabis sativa plants could be seen all around the city happily waving in the wind like any other innocuous and legal weed. But for all their persistence in invading the city's forgotten horticultural corners, these plants were likely waving farewell: New York was no friend to pot.

Over the course of the summer about 41,000 pounds of marijuana were uprooted and destroyed during a campaign to eradicate the psychotropic stuff from vacant lots in the city….Responsible for all this destruction was General Inspector of the city's Sanitation Department, John E. Gleason, who headed up a special "White Wing Squad" charged with harvesting and incinerating the dubious crop….

In this photo, captioned Plenty of Dream Stuff, we see Inspector Gleason and Denis Healy, Sanitation District Superintendent for Greenpoint and Williamsburg, taking the measurements of one especially lofty specimen. At this point in the summer—August 2nd—the Sanitation Department had already dug up "millions of dollars" worth of plants from the "marijuana plantations" of Brooklyn.
Two years later, Gocker adds, Gleason convicted two years later of lying to a grand jury in an extortion case. The general inspector was sentenced to three and a half years behind bars.
(For past editions of the Friday A/V Club, go here.)