Will Reducing Penalties for Sexting Encourage Prosecution?
The voluntary exchange of pictures by teenagers should not be treated as a crime at all.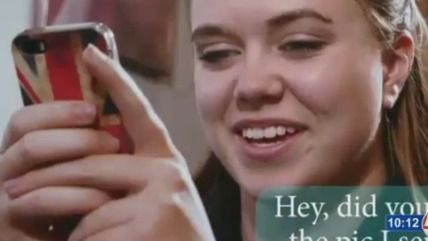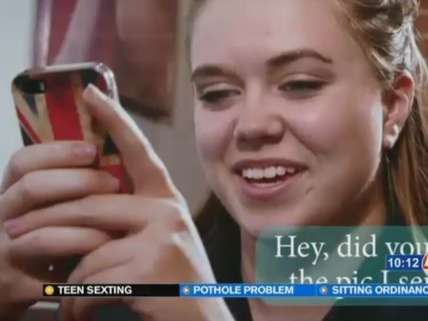 A bill making its way through the Kansas legislature would change most sexting offenses involving teenagers from felonies to misdemeanors, a reform that could backfire if it makes prosecutors less reluctant to bring charges.
Under current Kansas law, transmitting nude pictures of a teenager, even if that teenager is you, is a Level 5 felony, carrying a prison sentence of about three years for someone with no prior record, along with lifetime registration as a sex offender. The proposed law, which is expected to get a vote today in the state House, would make possessing a nude image of a 12-to-16-year-old a Class B misdemeanor, punishable by up to six months in jail and a fine of up to $1,000, when the defendant is a minor. Transmitting such an image would be a Class A misdemeanor, punishable by up to a year in jail and a fine of up to $2,500.
Any defendant obviously would prefer the lighter penalties, but their availability might make prosecution more likely. Forced to choose between felony charges and no charges at all in a case involving teenagers sharing pictures of themselves with each other, any decent prosecutor would pick the latter option, as prosecutors in Colorado and Michigan recently did. But when a misdemeanor option is available, it may be tempting for prosecutors intent on teaching kids a lesson. The Topeka Capital-Journal paraphrases an author of the Kansas bill as saying "the moderated sanctions would permit prosecutors to intervene with young people who commit these acts."
One unambiguous improvement in the Kansas bill is that 17-year-olds could exchange pictures of each other without committing a felony or a misdemeanor, since 17 is the age of consent for sex in Kansas. But for anyone 18 or older, including a 17-year-old's boyfriend or girlfriend, those pictures would still count as child pornography, which does not make much sense. Furthermore, it's not clear why sexting by younger teenagers should be treated as any sort of crime, as opposed to a disciplinary issue for parents.
In Colorado, where District Attorney Thom LeDoux wisely decided against criminal charges after public school officials in Cañon City caught more than 100 students swapping nude photos of themselves, the "sexting scandal" has generated a new curriculum and a batch of state-sponsored public service announcements aimed at discouraging the practice. KOAA, the NBC station in Pueblo, reports that in one PSA "a boy warns a friend about another classmate who was caught sexting." The warning: "Whenever he moves, he gets to greet his new neighbors with, 'Hello, I'm a registered sex offender. Have some cookies.'" The implication—that lifelong registration as a sex offender is a natural and appropriate consequence of sexting, as well as a welcome deterrent to youthful misbehavior—is questionable, to say the least.
Colorado legislators, like their counterparts in Kansas, are considering a bill that would make sexting by teenagers a misdemeanor rather than a felony. "Some people in Canon City say something like this should have been around before investigators discovered hundreds of lewd photos of local teens being exchanged like trading cards," KOAA reports. In other words, disapproving adults are happy to treat sexting teenagers as criminals, as long as the penalties aren't unconscionably severe. That attitude suggests that if outright decriminalization is not on the table, keeping the current penalties may be preferable to reducing them.