Unions, Abortion, Obamacare: 3 Supreme Court Cases to Watch in 2016
The 2015-2016 SCOTUS term heats back up.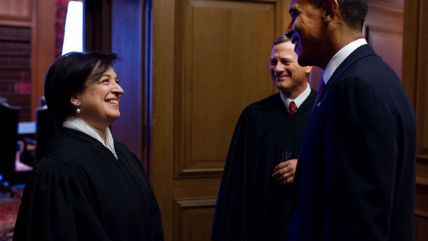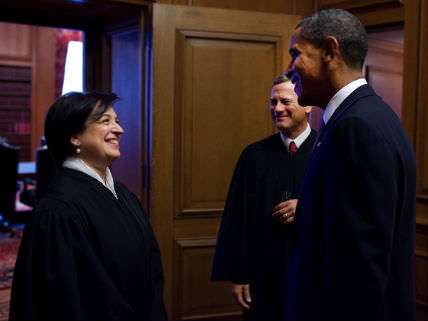 Next week the U.S. Supreme Court will return from its winter break and resume hearing oral arguments. What's next on the docket? Here are three important cases to watch as the Supreme Court's 2015-2016 term heats back up.
Friedrichs v. California Teachers Association
On January 11 the Supreme Court will hear oral arguments in Friedrichs v. California Teachers Association. At issue is whether the Court should overrule a 1977 precedent known as Abood v. Detroit Board of Education, a case in which the Court famously upheld a Michigan law that forced public-school teachers to pay the equivalent of union dues to the teachers union regardless of whether or not those teachers were union members. To say the least, Abood was a significant victory for public-sector unions.
Friedrichs places Abood squarely on the chopping block. According to lead petitioner Rebecca Friedrichs, a California school teacher, the state's mandatory union-fee scheme violates her First Amendment rights by compelling her to subsidize political speech that she disagrees with. "Just as the government cannot compel political speech or association generally," Friedrichs and her lawyers told the Court, "it cannot mandate political speech or association as a condition of employment." The California Teachers Association takes a different view, insisting that all teachers in the state, including even non-members like Friedrichs, benefit from its collective bargaining activities. If Friedrichs and others like her aren't forced to pony up, the union maintains, they would become the quintessential "free riders."
Whole Woman's Health v. Cole
The incendiary issue of abortion returns to the Supreme Court on March 2. That day the Court will hear oral arguments in Whole Woman's Health v. Cole, a case that considers the constitutionality of a Texas law that threatens to close all but a handful of the state's abortion clinics in the name of public health.
Whole Woman's Health centers on two provisions from a 2013 Texas statute known as H.B. 2. The first provision requires all abortion clinics in the Lone Star State to maintain or upgrade their facilities in order to meet the same standards required of ambulatory surgical centers. The second provision requires all physicians who perform abortions to have admitting privileges at local hospitals.
Are these valid health and safety requirements, as the state maintains, or are they regulatory pretexts designed to throw abortion providers out of business, as Whole Woman's Health maintains? The Supreme Court will issue its decision by late June.
Zubik v. Burwell
Last but certainly not least of the big cases to watch in 2016 is Zubik v. Burwell. This one is actually seven consolidated cases that ask whether the Obama administration's plan for accommodating certain religious objections to Obamacare's so-called contractive mandate is itself a violation of religious liberty. As I noted back in November:
In the most well-known of [the seven consolidated cases], Little Sisters of the Poor Home for the Aged v. Burwell, a nonprofit organization of Catholic nuns maintains that the Obama administration has violated the Religious Freedom Restoration Act by requiring the Little Sisters "to comply [with Obamacare], either directly or by executing documents that authorize and obligate others to use the Little Sisters' healthcare plans to accomplish the 'seamless' provision of contraceptive coverage."

In other words, although the federal government has exempted the Little Sisters from providing contraceptive coverage directly to its employees, the Little Sisters object to the fact that it is nonetheless required to file paperwork that results in that same contraceptive coverage being provided by a third-party. In the view of the Little Sisters, any involvement in facilitating such contraceptive coverage is tantamount to being involved in facilitating abortion.
Zubik will be the fourth time in five years that the Supreme Court hears a legal challenge to the Patient Protection and Affordable Case Act. The record so far? Obamacare: 2. Challengers: 1. Oral arguments in Zubik have not yet been scheduled.