The Absurdly Harsh Penalties That Sparked the Oregon Rancher Protest
A federal judge rejected mandatory minimums for Dwight and Steven Hammond as unconstitutional; an appeals court disagreed.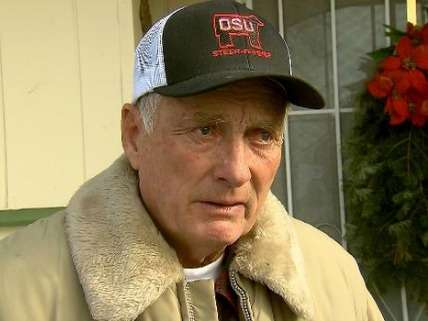 As Ed Krayewski noted yesterday, the armed men who are occupying an office building at the Malheur National Wildlife Refuge in Oregon broke off from a demonstration protesting the sentences received by two ranchers, 73-year-old Dwight Hammond and his 46-year-old son Steven, who in 2001 and 2006 set fires on their own property that spread to public land. In addition to the long-running conflict between ranchers and the federal government over control of land in the West, the case illustrates the practical impossibility of challenging harsh mandatory minimum sentences as violations of the Eighth Amendment's ban on "cruel and unusual punishments."
The first fire set by the Hammonds, which Steven Hammond said was intended to eliminate invasive species on their property, ended up consuming 139 acres of federal land. The second fire, which was aimed at protecting the Hammonds' winter feed from a wildfire sparked by lightning, burned about an acre of public land. Although the Hammonds did not seek the required government permission for either burn, the damage to federal land seems to have been unintentional. In 2012 they were nevertheless convicted under 18 USC 844(f)(1), which prescribes a five-year mandatory minimum sentence for anyone who "maliciously damages or destroys, or attempts to damage or destroy, by means of fire or an explosive," any federal property.
Viewing that penalty as clearly unjust given the facts of the case, U.S. District Judge Michael Hogan instead imposed a three-month sentence on Dwight Hammond, who was convicted of one count, and two concurrent one-year sentences on Steven Hammond, who was convicted of two counts. Those terms were within the ranges recommended by federal sentencing guidelines that would have applied but for the statutory minimum, which Hogan rejected as inconsistent with the Eighth Amendment. In 2014 the U.S. Court of Appeals for the 9th Circuit, responding to a government appeal, disagreed with Hogan, saying he had no choice but to impose five-year sentences on both men, since "a minimum sentence mandated by statute is not a suggestion that courts have discretion to disregard." That is why the Hammonds, who had already completed their original sentences, were ordered back to federal prison, the development that led to Saturday's protest.
In rejecting Hogan's conclusion that the mandatory minimum was unconstitutional as applied to the Hammonds, the 9th Circuit noted that the Supreme Court "has upheld far tougher sentences for less serious or, at the very least, comparable offenses." The examples it cited included "a sentence of fifty years to life under California's three-strikes law for stealing nine videotapes," "a sentence of twenty-five years to life under California's three-strikes law for the theft of three golf clubs," "a forty-year sentence for possession of nine ounces of marijuana with the intent to distribute," and "a life sentence under Texas's recidivist statute for obtaining $120.75 by false pretenses." If those penalties did not qualify as "grossly disproportionate," the appeals court reasoned, five years for accidentally setting fire to federal land cannot possibly exceed the limits imposed by the Eighth Amendment.
In other words, since even worse miscarriages of justice have passed constitutional muster, this one must be OK too. Given the binding authority of the Supreme Court's precedents, the 9th Circuit's legal reasoning is hard to fault. But it highlights the gap between what is legal and what is right, a gap that occasionally inspires judges to commit random acts of fairness.
Addendum: As Ryan Cooper points out on Twitter, federal prosecutors argued that, contrary to Steven Hammond's account, the 2001 fire was aimed at covering up evidence of poaching on federal land. The 9th Circuit noted that a teenaged relative who barely escaped the flames "testified that Steven had instructed him to drop lit matches on the ground so as to 'light up the whole country on fire.'"