Uber, Lyft Drivers in Seattle Given Legal Go-Ahead to Unionize
How might union worker protection policies work along with a community-rating app system?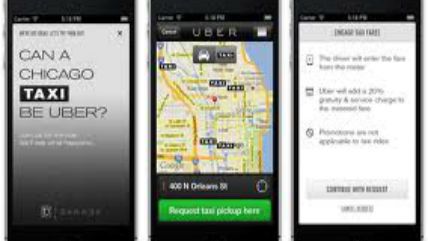 Earlier this week, Seattle's City Council passed a bill allowing rideshare-app drivers for companies such as Uber and Lyft to unionize. Herewith, some observations on what that might end up meaning: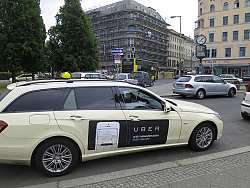 The vote is a victory for the App-Based Drivers Association, or ABDA, of Seattle, an organization of on-demand contract workers that lobbied with the local Teamsters union for the legislation. It is a fight that other drivers around the country have watched closely; union organizers in California have said that the outcome of the Seattle vote could influence actions taken in their own cities….

Legal specialists said the measure could run afoul of federal labor laws. Groups of independent contractors engaging in collective bargaining could also run up against illegal price-fixing issues under antitrust law.
• Seattle Times with details on how the local move does and does not jibe with federal labor law:
The National Labor Relations Act gives employees the right to collective bargaining. But drivers for taxi, for-hire and app-dispatch companies like Uber and Lyft are categorized as independent contractors, rather than employees, so those federal protections don't apply to them…

Uber and Lyft opposed the ordinance and argued that [councilmember Mike] O'Brien's proposal violates federal labor and antitrust laws, meaning the city likely will be sued.
Seattle Mayor Ed Murray is worred that the law will cost his city too much in overseeing the bargaining process and fighting such lawsuits, and refuses to sign the law, which can become law anyway without his signature.
How the move paves way to a union:
Under the ordinance, a taxi, for-hire or app-based vehicle-dispatch company will be required to provide the city with a list of its Seattle drivers. Then a nonprofit organization — most likely a union — will use the list to contact the drivers.
The nonprofit organization will need to gain the support of a majority of a company's drivers to be designated by the city as their bargaining representative.
The ordinance will require the company to seek an agreement with the representative organization. The city will enforce the ordinance's requirements through penalties such as fines, but not by revoking a company's license to operate.
• As Gizmodo notes, Seattle is not insisting that these unionized drivers are thus employees; that question underlies an ongoing lawsuit against Uber in California, which will cost them millions if they lose:
This means drivers will be able negotiate their salaries and working conditions as a unit. It does not mean, however, that they'll be considered employees—the bill refers to the workers as independent contractors.

The National Labor Relations Act doesn't give independent contractors the same protections for bargaining directly with the companies they work for as employees, but this bill offers a workaround by allowing a certified non-profit to represent the interests of drivers…..

A Lyft spokesperson told Gizmodo by email that the company does not support today's decision:

Lyft provides consumers with convenient and affordable transportation, and drivers with the ability to make money in their free time. Lyft drivers are entirely in control of where or when they work, and this flexibility is exactly why the service is so popular with with people looking to make extra income. Unfortunately, the ordinance passed today threatens the privacy of drivers, imposes substantial costs on passengers and the City, and conflicts with longstanding federal law….
• This Christian Science Monitor report highlights one of the conceptual divisions between union ideas of "job security" and "dismissal for cause" and a system where every opportunity for the driver to "work" gets chosen by a specific customer with access to community ratings on the driver:
"When it comes to the ability to unionize I think that's actually very powerful and has the ability to make these freelancers and contractors a lot more secure in their jobs," says Emily Hong, a program policy associate at the New America Foundation's Open Technology Institute, in an interview.

So-called gig economy work, she says, "provides a lot of flexibility but doesn't provide a lot of security. It will be very welcome in this space, especially if turns out that people are increasingly turning to Uber as full-time work."…

"The major disruptive innovation of the sharing economy that has allowed it to create opportunities for consumers and for producers is that these firms don't depend on the employer and employee relationship. They're simply platforms that connect consumers with producers," says Matt Mitchell, an economist at the market-focused Mercatus Center at George Mason University.

Professor Mitchell says companies like Uber also solve an issue economists call the asymmetric information problem, where one party in a transaction – such as a cab driver – has much better information than the other, through the company's ratings system.

Uber's rating system – which allows both customers and drivers to provide ratings – has proved controversial, with some drivers saying they have kicked off the app for unsubstantiated claims by customers….
Imagine, Uber or Lyft customer, being forced to prove before some union committee that your possibly job-restricting negative reaction to the driver is unfair or not properly substantiated.
Your opinion and judgment on your experience now has real effects on his or her potential employment status. It's not at all clear how union job protection policies can jibe with a community-rating economy.