Food Freedom Spreading Across States
Wyoming's groundbreaking direct-to-market law, adopted earlier this year, appears to have sparked a growing movement.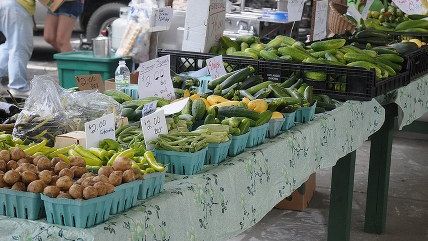 (doc.D / photo on flickr)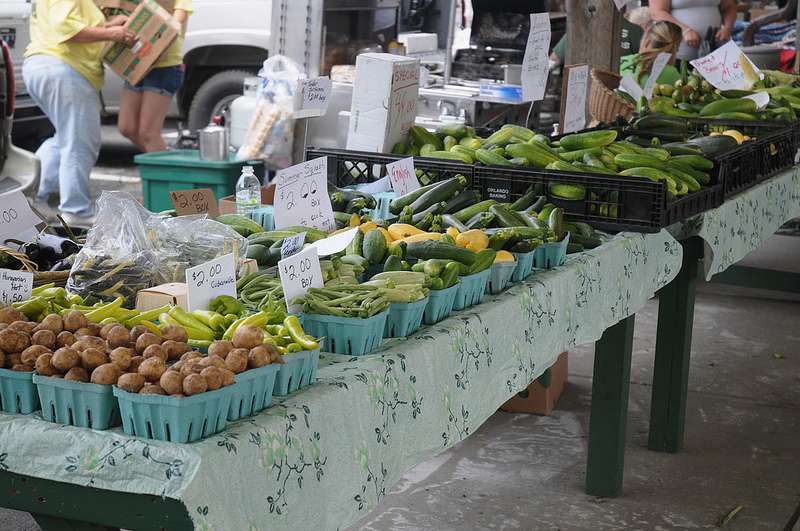 Earlier this year, Wyoming became the first state in the nation to pass a groundbreaking Food Freedom Act. As I wrote after the law passed, the Food Freedom Act deregulates many direct-to-consumer food sales in the state.
Wyoming State. Rep. Tyler Lindholm co-sponsored the law, which passed thanks to widespread bipartisan support in the state legislature. When I spoke with Lindholm earlier this year after the law took effect, he called it "a game changer for Agriculture in Wyoming" and predicted farmers markets in the state would immediately feel the impact of the law.
The first growing season under the new law has drawn to a close. So how's the new law doing?
It appears State Rep. Lindholm was right.
"Wyoming's first season under the Wyoming Food Freedom Act was one of bounty without a doubt," Lindholm told me by email this week. "I've had the opportunity to crisscross this great state throughout the year and have perused more than my fair share of farmers markets, in addition to shopping directly at farms without having to worry about 'Big Brother' taking issue with my edibles, and the results have been exactly what we all knew already. The free market will thrive if given the chance."
Lindholm tells me that many farmers market managers he's spoken with are thrilled with the new law. "I've talked with several Farmers Markets and their managers and have found the numbers being reported as doubling the number of consumers and producers in a multitude of products," he says.
Farmers are also finding success under the law.
"Lyle Williams and his wife Jana operate a small farm in the South West corner of the state and have taken the ball of Food Freedom and run with it," Lindholm tells me. "Lyle has worked a great deal of his life in the oil field and was working there still up until recently, but he didn't quit that field due to the downturn in oil; he quit because he can do just as well if not better selling his products at the farm directly to the consumers. He sells out of milk every day and has had to be constantly growing the size of his herd in order to keep up with demand."
One of the chief concerns voiced by critics of the new law was that it would lead to an increase in foodborne illness. It's probably too early for any data on foodborne illness cases to have been tabulated. Still, I've searched for but have been unable to find reports of any uptick in foodborne illness in Wyoming since the law's passage. Celery that may have been contaminated with E. coli was recently recalled in Wyoming and other western states, for example, but that celery came from California.
While food-safety issues do not appear to have arisen under the new law, one issue has made news. Farmers who want to expand their offerings to include on-farm sales of raw milk and other higher-risk foods have found it difficult to obtain insurance. That's hampering some from offering more food choices.
Challenges aside, the law is big news in Wyoming. Earlier this year, after the Food Freedom Act took effect, Wyoming's PBS affiliate produced an excellent two-part series on the law's impact. You can watch it here and here.)
As Wyoming Farmer's Market Association board member Bren Lieske told Wyoming Public Media last month, the state's farmers and other food producers operating under the new law "have the opportunity to model to other states that less regulation of locally-produced foods can be safe and good for local economies."
The good news out of Wyoming appears to be spreading. Recent reports have indicated that a neighboring state, Utah, is also testing out the idea of adopting a food freedom law of its own. Like Wyoming's law, the Utah bill would exempt farmers who sell directly to consumers from many food-safety rules.
State Rep. Lindholm tells me that, in addition to Utah, two other states will introduce food freedom bills during the next legislative session, and another four may do so as well. That's a far cry from 2012, when a pair of food freedom bills—including one in Utah—flamed out.
In a growing number of states, it appears the prospects for food freedom are looking brighter each day. I hope more states will follow Wyoming's lead.