What Exactly is Rahm Emanuel's Firing of His Police Chief Supposed to Accomplish?
The Chicago mayor dismissed his police superintendent, but the problems with the department are systemic.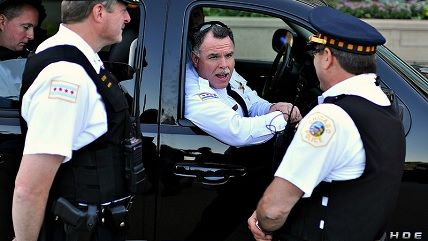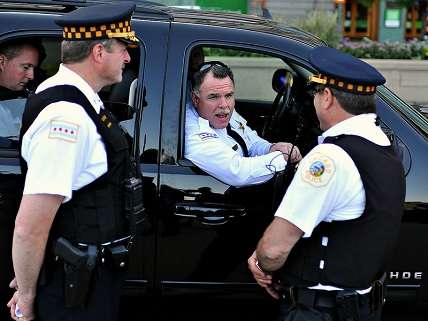 Chicago Mayor Rahm Emanuel announced this morning that he had fired Police Superintendent Garry McCarthy, who had served as the head of the Chicago Police Department since 2011, when Emanuel first took office.
The firing comes after tensions over the October 2014 police killing of Laquan McDonald, back in the news because a judge ordered dash cam video showing a Chicago police officer firing 16 rounds at 17-year-old Laquan McDonald, who was armed with a knife but trying to move away from the cop when he was shot.
The order to release that video prompted the state's attorney, Anita Alvarez, to go ahead and indict Jason Van Dyke, the officer who shot and killed McDonald. Alvarez insisted she had already made the decision "weeks ago" but wanted to wait for federal authorities to end their investigation. Alvarez is not an employee of McCarthy or the police department, so McCarthy can't be blamed for the fact that thirteen months after McDonald was killed no kind of trial had yet started.
Also contributing to McCarthy's firing, was the spotlight placed on Chicago's homicide problem after gang members from South Side executed 9-year-old Tyshawn Lee.
McCarthy's mandate since he took office was to bring violent crimes, and especially murders, down. As The Chicago Sun-Times reports:
When he first entered office in 2011, McCarthy carried out Emanuel's campaign pledge of eliminating roving citywide task forces responsible for seizing guns and drugs and concentrated on putting officers on beats in districts.

Then he created "impact zones," six-block areas with major crime problems, in 12 police districts.

Cops working in office jobs have been moved into the impact zones to bolster beat cops.

Moving yet another round of officers from desk jobs to street duty was the only alternative to appease aldermen whose residents are clamoring for more officers to reduce the spike in homicides, shootings and gang violence that continues to plague Chicago.
Chicago had more than 900 murders per year for two years in a row in the mid-1990s, a record high for the city. Since then, crime, and homicides, have more or less steadily decreased. The highest number of homicides recorded under Emanuel's administration was 504, in 2012, the year after he took office. The first three months of this year saw a spike in homicides over the same period in 2014, but that spike brought the levels back to where they were when Emanuel first entered office in 2011.
It's unclear how McCarthy's firing will either improve police accountability or lower crime. McCarthy was the police superintendent throughout Emanuel's first term, and the chief of police he held on to through his ultimately successful re-election campaign. Now, Emanuel says, McCarthy "has become an issue rather than dealing with the issue."
Yet, nothing's changed about the situation in Chicago other than the optics. Police were just as brutal and unaccountable before video of the Laquan McDonald killing was released, and gang violence was a major problem in Chicago before and after the Tyshawn Lee killing.
And, on police accountability at least, McCarthy has been consistently resistant to it since first coming on board for Emanuel. Earlier this year, he argued criminally charging cops for fatal shootings created a "safety hazard" for them. The comments came after Dante Servin, a Chicago police officer, had been charged in relation to an incident where Servin shot his gun while it was over his shoulder at a crowd of people behind him while driving the wrong way down a one way street.
McCarthy is the man Emanuel put his trust and confidence in to lead the Chicago Police Department, for nearly five years. The city spends an average of $1 million a week resolving lawsuits against police officers. Nearly 18,000 complaints were filed against police officers in the last four years.
"Our goal is to build the trust and confidence with the public," Emanuel said this morning. If McCarthy's failed, then surely so has Emanuel. He should be resigning as well.