France Puts Climate Activists Under House Arrest Before They Can Protest
France's erosion of civil liberties while under a state of emergency continues.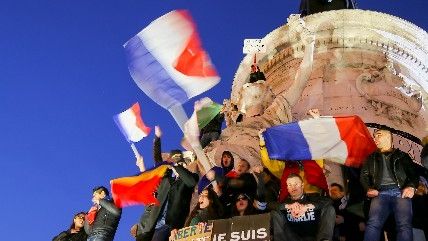 The Guardian reports French police have placed 24 climate change activists under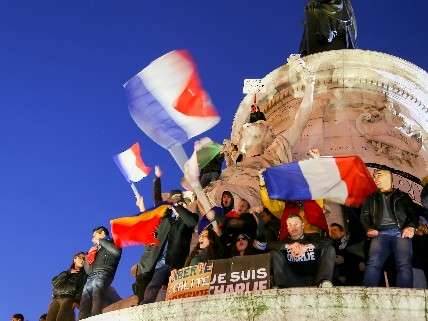 house arrest in anticipation of the COP21 climate change conference in Paris.
As part of the extended state of emergency imposed on the country following the terror attacks in Paris on November 13, groups or individuals deemed a "threat to security or public order" can be placed under house arrest. Additionally, French authorities placed a blanket ban on large demonstrations timed to coincide with the long-planned conference.
The New York Times writes:
Juliette Rousseau, the head of Coalition Climat 21, an umbrella group for environmental activists, said the authorities had searched homes and seized computers and other equipment belonging to activists who have no connection to terrorism.

"There's clearly an environment to keep activists out," she said. "The state of emergency is clearly targeting activist movements. This is not justified. These people under house arrest, they don't have any kind of criminal record."

She added: "The impression we have is that there is this conference taking place in a sealed-up space, and meanwhile people in civil society are being asphyxiated."
France24 spoke with one of the activists placed under house arrest, who described the raid on her home:
"They entered the apartment with shotguns and assault rifles. It was quite violent. They pinned us to the ground," said Amélie, a young barmaid who did not wish to give her full name. "It lasted quite a long time. We had no idea why they were there."

The officers handed Amélie a restraining order informing her that she can no longer leave Rennes, is required to register three times a day at the local police station, and must stay at home between 8pm and 6am.
Such warnings didn't stop thousands of protesters from turning out yesterday, with 4,500 reportedly forming a human chain near the Place de la Republique. Tear gas was deployed and some protesters turned violent, resulting in 208 arrests.
NBC News reports:
President Francois Hollande said "everything will be done" to keep violent protesters away from the conference.

Hollande said the violence was "scandalous," because the "disruptive elements" had nothing to do with activism and because it erupted at Place de la Republique, which has become a memorial site for the victims of the Paris attacks.

Paris police chief Michel Cadot told reporters that some demonstrators hurled glass bottles and memorial candles at police.

Some protesters were undeterred by the criticism though, chanting, "a state of emergency is a police state."

Thousands of shoes — including a pair from the pope — were arranged at the Place de la Republique to represent activists who could not participate due to the ban on large gatherings. Organizers said they had collected more than 11,000 pairs of shoes.
French authorities must have known that placing a mere few dozen activists under house arrest would not quell the ambitions of demonstrators eager to make themselves heard in the shadow of a legally binding conference of more than 150 world leaders. To that point, activists have noted other mass gatherings, including sporting events and holiday markets, have been allowed to continue during the state of emergency.
Heightened security in the wake of ISIS-inspired attacks on mainland Europe will be a concern for years to come, it will not magically go away when the state of emergency expires at the end of three months. But by taking a small number of would-be protesters off the streets, it's possible French authorities are engaging in a kind of security theatre, with heavy-handed shows of force meant to telegraph to the 84 percent of the French population that currently supports trading civil liberties for a sense of security that their government is in control and working to keep them safe.