The People We Trust to 'Save' Women From Prostitution Keep Paying Them for Sex—and Worse
How can cops be trusted to enforce prostitution laws fairly when they can't keep their dicks in their pants?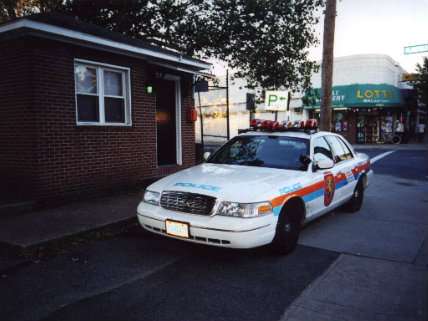 Here's a horrifying story out of Chicago, where at least two police officers are under investigation for the sex trafficking of a 14-year-old girl. The local Fox news station is referring to it as a "sex scandal," but I think depraved and egregious abuse of power is probably a better descriptor. The officers were originally under scrutiny for possessing child pornography. An Internal Affairs investigation has since uncovered evidence that they were advertising a 14-year-old girl and potentially other teens for commercial sex.
This story comes just a few days after the FBI announced the "rescue" of "149 child sex trafficking victims" across the country. (More on that effort, known as "Operation Cross Country," here.) By children, the FBI means teenagers, and by sex trafficking victims, they mean any teen selling sex, regardless of whether force or coercion are involved. As more media reports of these so-called rescues are released, the inhumanity and futility of this model of "saving" teens in the sex trade becomes clear.
Take this account out of Michigan, where the FBI heralded the takedown of 12 alleged pimps and the recovery of 19 minors engaged in prostitution. After identifying "escort" advertisements featuring teens, Michigan State Police and FBI agents swarmed houses and hotel rooms en masse and raided them with weapons drawn. Teens they found were given two options: reunite with their parents or guardians, or receive no help at all—nevermind that some of these girls likely had good reason for running away from foster homes or parents in the first place.
FBI Supervisory Special Agent Michael Glennon, who led the Detroit sting, told the Free Press that some of the "19 children rescued" this week have already returned to the sex trade. But at least everyone got to add them to press releases about how many victims were rescued first, right?
This is what so many well-meaning people don't seem to understand: the tough-on-crime approach to sex-trafficking is about arresting as many people as possible and wresting as many assets as possible from them, not legitimately helping sex trafficking victims (legitimately helping people means paying attention to what they actually need, not threatening them with arrest if they don't testify against others or sending them to church-run "prostitution diversion" camps or giving them bags filled with socks and toiletries and calling it a day.) Just look at the language used by Marinus Analytics, a company getting lots of attention for using big data analysis to aid in human trafficking investigations. In its intro, Marinus promises to help cops and prosecutors "focus your attention to high value criminal targets" and "track the highest value criminal targets in less time."
The assets that can be seized are the prize, the teens selling sex are just convenient cover. And sometimes worse, as in the case of the two Chicago officers. But while the age of the victim makes these agents' actions stand out, tales of police paying, pimping, and sexually assaulting sex workers are far from rare. In the past few months alone, we can pinpoint myriad examples from across the United States:
Five Tucson, Arizona, police officers were fired over the summer after a sex-trafficking investigation into a local massage parlor revealed that the officers had "personal relationships" with women there. Two more officers resigned before the completion of the internal investigation. Another officer was fired "due to evidence of felony computer tampering discovered during the prostitution probe," the Arizona Daily Star reports. The county attorney's office has declined to criminally prosecute any of these cases.
Three San Antonio police officers were arrested in September on charges including aggravated sexual assault, compelling prostitution and official oppression. The officers—Aaron Alford, Alejandro Chapa and Emmanuel Galindo—allegedly offered to pay three women for participating in an "investigation" that involved having sex with them.
Las Vegas Detective Michael Kitchens was sentenced in August to three years' probation for assaulting a sex worker after he decided her fee was too high.
In July, Fort Worth, Texas, police officer Ryan Candu was fired over allegations that he paid for sex while on duty and messaged obscene photographs of himself to others. Candu's lawyer argues that this isn't fair because other officers in the department have done the same thing but were not investigated or disciplined.
Care to keep going? Looking at news going back to this time last year turns up more than two dozen additional examples, including some involving police chiefs and multiple crimes involving young girls.
Jeanerette, Texas, Police Chief Marvin Grogan was arrested in May in conjunction with a prostitution, drug, and child sex-trafficking investigation into Lipsticks Gentleman's Club. He was placed on administrative leave for a month before resigning. Grogan is accused of continuing to work security at the club after an official investigation ended and not reporting illegal activities taking place there.
In April, former Clark County Sheriff Danny Rodden plead guilty to destruction of evidence and making false statements to federal agents after paying a woman $300 for sex, giving her a deputy's badge and uniform so she could get hotel discounts, and lying about it.
Las Vegas Sergeant Keith T. Barrow was suspended in February after sleeping with a sex worker who stole his handcuffs and gun.
In January, Cook County Sheriff's Deputy Fernando Rodriguez was charged with attempted sexual assault, unlawful restraint, and official misconduct. Fernando allegedly called a sex worker into his car and, gun in hand, told her "Take care of me the right way and I'll let you walk." He was interrupted by other police officers.
Last November, Gainesville, Florida, Officer Robert V. Gebhardt was fired after an internal investigation found he visited a 19-year-old sex worker in jail after arresting her for shoplifting, later taking her out to dinner and paying her $50 for sex. He subsequently continued trying to see the woman, who was addicted to crack, and went searching for her at "known drug houses" when she wouldn't respond.
Baltimore Police Officer Lamin Manneh was sentenced last November for running a multi-state prostitution enterprise in 2013.
A former San Bernardino, California, vice detective was sentenced last October to 25 years in federal prison. Jose Jesus Perez was found to have forced sex workers to engage in sexual activity with him or face arrest; the assaults took place in 2011.
Philadelphia Officer Ronald D. Thompson was arrested in an October 2014 prostitution sting.
Some will likely point out that this is a big country with a big police force, and a few dozen bad apples does not a dire situation make. But let's also remember that these are merely the cops who got caught and made the news. How many officers get away with coercing and assaulting sex workers because the women think that no one will believe them? How many departments overlook solicitation by their officers? Knowing what we know about how police protect their own, it doesn't seem too big of a stretch to imagine that much of this sort of thing simply gets swept under the rug.
And of course we also have evidence of these sorts of cover-ups. For instance, last year, Fort Smith, Arkansas, Sergeant Don Paul Bales was fired after raising concerns about another officer engaging in sex acts with a woman before arresting her for prostitution; the officer alleged of doing so is still employed by the department. In Minneapolis, three undercover cops whose names were released after allegations that they messed around with sex workers before arresting them are currently suing the city, county, and state of Minnesota for releasing their names.
The Cato Institute's Jonathan Blanks compiles an ongoing daily list of police misconduct reports. Peruse just a few pages on the National Police Misconduct Reporting Project site and you'll find a ridiculous number of rape, sexual assault, stalking, statutory rape, domestic violence, child pornography, and child molestation charges. A study from Cato found that sexual misconduct was the second highest of all complaints against police officers in 2010, representing 9.3 percent of all complaints. More than 350 of the 618 complaints involved non-consensual sexual acts, and over half involved minors.