FAMM Calls Grassley-Backed Bill the 'Most Significant Sentencing Reform Legislation in a Generation'
The bill could let thousands of current prisoners get out sooner than expected and reduce future injustices.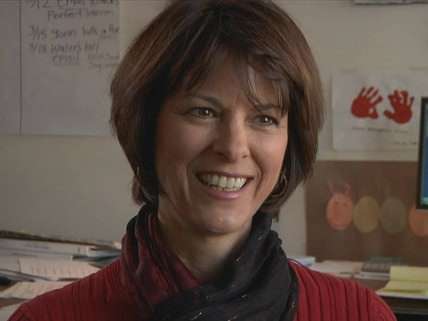 Despite the compromises that were necessary to win the support of Senate Judiciary Committee Chairman Chuck Grassley (R-Iowa), Julie Stewart, president of Families Against Mandatory Minimums (FAMM), calls legislation unveiled today "the most significant pieces of sentencing reform legislation in a generation." The provisions described by FAMM make the Grassley-backed bill sound significantly better than MSNBC's preview suggested.
According to FAMM, the bill, known as the Sentencing Reform and Corrections Act, would allow some 6,500 people serving time for crack offenses to seek shorter sentences in line with the new penalties approved by Congress in 2010. It also would replace the mandatory life sentence for a third drug or violent felony with a 25-year term, reduce the mandatory minimum for a second drug or violent felony from 20 to 15 years, reduce the mandatory minimum for gun possession by people with certain criminal records from 15 to 10 years, and reduce the mandatory minimum for people who repeatedly possess guns in the course of drug trafficking from 25 years to 15.
The latter four changes would be retroactive. That's a big deal, because it means current prisoners could get out sooner than expected. For example, it sounds like Weldon Angelos, the small-time marijuana dealer who received a 55-year sentence for gun possession during three sales, could get decades shaved off his sentence. In addition to helping people like Angelos, retroactivity sets an important precedent for future reforms: Once Congress has determined that certain sentences are unjust, people who are already serving them should not have to complete them.
FAMM adds that the new bill "narrowly define[s] which prior offenses can trigger longer mandatory minimum drug sentences," expands the "safety valve" that lets some nonviolent drug offenders escape mandatory minimums, and allows certain categories of prisoners to shorten their sentences by participating in rehabilitative programs. On the negative side, the bill creates new mandatory minimums: 10 years for "interstate domestic violence resulting in a death" and five years for "providing certain weapons or aid to terrorists."
The Sentencing Reform and Corrections Act does not go nearly as far in reducing mandatory minimums as the Smarter Sentencing Act, let alone the Justice Safety Valve Act (which would have eliminated them). But it could help free thousands of current prisoners serving absurdly long sentences while substantially reducing such injustices in the future. "This bill isn't the full repeal of mandatory minimum sentences we ultimately need," Stewart says, "but it is a substantial improvement over the status quo and will fix some of the worst injustices created by federal mandatory sentences."
Update: The text of the bill is available here. The Senate Judiciary Committee describes its provisions here.