You Tune Into the VMAs for Miley Cyrus and Kanye West, You Get Pot Legalization Agitprop
...from Hillary Clinton supporters, no less.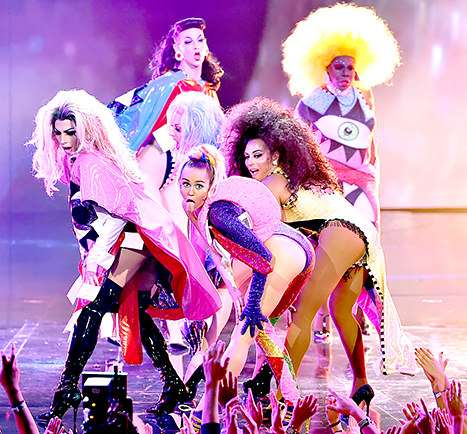 Last night's Video Music Awards, during which iconic MTV "moonman" statuettes are given away for various reasons, were hosted by Miley Cyrus.
For those over 75, she's the former star of Hannah Montana and daughter of Billy Ray—whose greatest hit, "Achy-Breaky Heart," was considered so terrible the FBI played it in an attempt to get the Branch Davidians to surrender.
Miley is arguably best-known for her 2013 appearance on the VMAs, where her grand mal twerking seizure with Robin Thicke set Twitter afire even as it "set back the average age of sexual initiation by a couple of decades."
This year, Miley had a much more uplifting and positive message: She talked openly about legalizing pot and the final number of the night was nothing less than an ode to smoking maximum doobage (to use a phrase that was already out of fashion before the first VMAs aired in 1984) and accepting alternative sexuality. "Dooo It," she crooned to close out the evening.
She was joined in her calls to legalize pot by Kanye West, this year's rightful recipient of the "Video Vanguard" award (like him or hate him, the guy is an absolute genius and innovator when it comes to music and videos). In what IJ Review generously characterized as a "rambling 12-minute" acceptance speech, West not only announced his plans to run for president in 2020 and inaccurately claimed to be a millennial, he acknowledged that he'd "rolled up a little something" before the show.
The generally right-of-center IJ Review called last night's ceremony a "victory lap for Obama's America," mostly because of the pot talk and the open acceptance of transgenderism throughout the evening, especially the closing number.
I recognize that Kanye West seems incapable of irony, but even he might enjoy this: Just a few weeks ago, West photobombed his wife, Kim Kardashian, taking a selfie with Hillary Clinton, who is still the presumptive Democratic nominee despite being generally disliked by everyone in America except Huma Abedin.
As it happens, Hillary Clinton is not only a late convert to the cause of marriage equality (she converted even later and in an even more patently phony way than Barack Obama) but still an anti-pot crusader. Indeed, she is as bad, if not worse, than anybody on the GOP side of the race for the White House in 2016.
As The Daily Beast's Betsy Woodruff reported earlier this year, Clinton's position on marijuana is "obtuse."
The former secretary of state has indicated that she's comfortable with the Obama administration's hands-off stance to Washington and Colorado's legalization of marijuana, but she's also telegraphed some Reaganesque views on the drug war.

"I think the feds should be attuned to the way marijuana is still used as a gateway drug and how the drug cartels from Latin America use marijuana to get footholds in states," she told KPCC radio last July.
Here's hoping that if Clinton is the Democratic nominee, that Kanye West explains to her why legalizing pot wouldn't mean the end of Western Civilization or anything dire. If Clinton can "evolve" on gay marriage if it helps her get elected, she can evolve on pot, too, despite a long history of saying stupid things—such as that we can't legalize drugs because "there's too much money in it." Check that out below.