[Updated at 2:35 P.M.] WDBJ7 Killer Wanted Revenge for Charleston Massacre, Idolized Columbine Killers, Claimed Racial Discrimination
Had HR dispute with murdered former colleagues.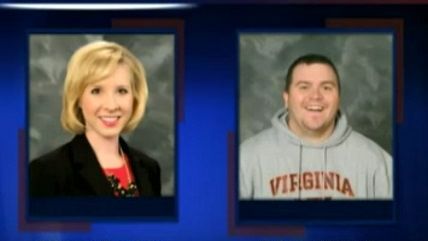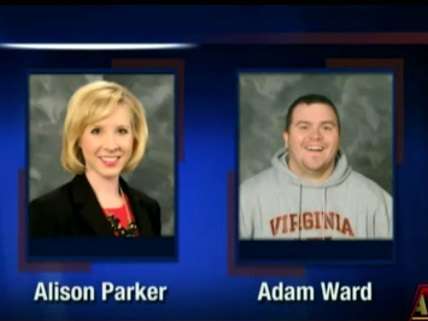 An unidentified man opened fire on a WDBJ7 news crew, killing a TV reporter and a cameraman.
The attack happened during a live broadcast from Moneta in central Virginia, and was caught on tape. To watch a recording of the shooting, follow this link. (Warning: The video is extremely disturbing.)
The victims were 24-year-old reporter Alison Parker and 27-year-old cameraman Adam Ward. Parker lived with her boyfriend, who called her "the most radiant woman I ever met" in a statement on Twitter. Ward was recently engaged.
According to Fox News:
The incident occurred at 6:45 a.m. at Bridgewater Plaza in Moneta, Va., according to Franklin County Sheriff Department spokesperson Phillip Young. Earlier, police had reported there were three victims, according to WSLS.

WSLS said police are still looking for the shooter and hope to have a description out to the public shortly.

The shooting occurred live on television while Parker was conducting an interview outdoors about a planned anniversary celebration at Smith Mountain Lake, with Ward filming. As the camera panned to Parker and her subject, multiple shots rang out and several screams could be heard. As the camera fell to the ground, an blurry image suspected to be of the gunman came into view on the screen.
Here is a screenshot of the alleged shooter, who is still at large.
[Updated at 10:25 a.m.] The killer is thought to be a disgruntled employee of WDBJ7.
The third victim was Vicki Gardner, head of the local Chamber of Commerce, who was being interviewed by Parker at the time of the attack. She was shot in the back and is currently in surgery.
Parker's boyfriend, Chris Hurst, was her evening co-anchor. They had kept their relationship relatively private. Ward's fiancee also worked at the news station, though today was supposed to be her last day. The couple had plans to move away in the near future, according to roanoke.com.
[Updated at 11:35 a.m.] The alleged killer posted a Vine he made shortly before (and during) the shooting. That Vine was posted to the Twitter account of Bryce Williams, a former reporter for WDBJ. He reported under that name, but his real name is Vester Lee Flanagan, according to NBC. He is presumed to be responsible for the murders.
[Updated at 12:15 p.m.] Even though Williams' Twitter account was suspended, it's still possible to view his horrifying video of the murders. It's impossible to overstate how deeply disturbing the video is, so please take that under advisement before you go looking for it. Some news sites, including (warning: very graphic content) The Daily Caller, embedded versions of it in their stories. Proceed at your own risk.
[Updated at 12:20 p.m.] WDBJ7 is now reporting that Williams was injured from a self-inflicted gunshot wound during a confrontation with police, but is not dead. He is in critical condition.
The third victim, Vicki Gardner, is in stable condition.
[Updated at 12:50 p.m.] Jeffrey Marks, general manager of WDBJ, provided some additional details on Williams (real name Vester Lee Flanigan), during a live broadcast. Here's my transcription of his remarks:
Vester was an unhappy man. We employed him as a reporter and he had some talent in that respect… He quickly gathered a reputation as someone who was difficult to work with. He was sort of looking out for people to say things he could take offense to. Eventually after many incidents of his anger coming forward, we dismissed him. He did not take that well. [Police had to be called.] He filed a claim with the Equal Employment Opportunity Commission… about members of the staff making racial comments. He was African American. None of them could be corroborated by anyone. We think they were fabricated. We talked to all our employees… we got nothing about that. The EEOC dismissed the claim out of hand.
[Updated at 2:05 p.m.] The shooter succumbed to his self-inflicted injuries and is now dead, according to The Washington Post. Police are scheduled to begin a live press conference at any moment.
[Updated at 2:35 p.m.] Before he died, Vester Lee Flanagan faxed ABC News a copy of his 23-page manifesto in which he cited revenge for the Charleston church massacre as the motivation for his attack:
In the 23-page document faxed to ABC News, the writer says "MY NAME IS BRYCE WILLIAMS" and his legal name is Vester Lee Flanagan II" He writes what triggered today's carnage was his reaction to the racism of the Charleston :

"Why did I do it? I put down a deposit for a gun on 6/19/15. The Church shooting in Charleston happened on 6/17/15…"

"What sent me over the top was the church shooting. And my hollow point bullets have the victims' initials on them."

It is unclear whose initials he is referring to. He continues, "As for Dylann Roof? You (deleted)! You want a race war (deleted)? BRING IT THEN YOU WHITE …(deleted)!!!" He said Jehovah spoke to him, telling him to act.

Later in the manifesto, the writer quotes the Virginia Tech mass killer, Seung Hui Cho, and calls him "his boy," and expresses admiration for the Columbine High School killers. "Also, I was influenced by Seung–Hui Cho. That's my boy right there. He got NEARLY double the amount that and Dylann Klebold got…just sayin'.

In an often rambling letter to the authorities, and family and friends, he writes of a long list of grievances. In one part of the document, Williams calls it a "Suicide Note for Friends and Family".

–He says has suffered racial discrimination, sexual harassment and bullying at work. –He says he has been attacked by black men and white females. –He talks about how he was attacked for being a gay, black man

"Yes, it will sound like I am angry…I am. And I have every right to be. But when I leave this Earth, the only emotion I want to feel is peace…."

"The church shooting was the tipping point…but my anger has been building steadily…I've been a human powder keg for a while…just waiting to go BOOM!!!!".