Jared Fogle's Arbitrary Punishment
Looking at pictures should not be treated like a violent crime.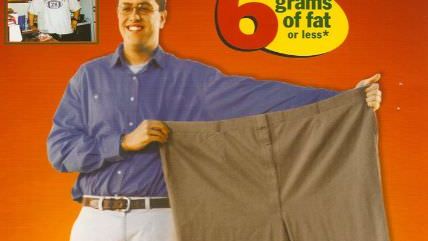 Given the penalties Jared Fogle faced under federal law, it's not surprising that the former Subway pitchman last week agreed to plead guilty to receiving and distributing child pornography as well as having sex with a 17-year-old prostitute. But the large disparity between state and federal penalties for these offenses highlights the arbitrariness of our criminal justice system, especially when it comes to crimes that involve sex and children.
Unlike his associate Russell Taylor, who ran his charitable foundation, Fogle was not accused of producing child pornography. He was instead charged with looking at pictures and video of "minors as young as approximately 13-14 years" who were "secretly filmed in Taylor's current and former residences."
Taylor produced that material "using multiple hidden cameras concealed in clock radios positioned so that they would capture the minors changing clothes, showering, bathing, or engaging in other activities." He also allegedly gave Fogle a thumb drive containing "commercial child pornography" featuring minors as young as 6 that Fogle "on one occasion" showed to "another person," which seems to be the basis for the distribution charge.
In Indiana, where Fogle lives, possessing child pornography can be treated as a misdemeanor punishable by at least six months in jail or a felony punishable by up to three years in prison. Sharing child pornography is a Class C felony punishable by two to eight years in prison.
Under federal law, by contrast, receiving child pornography, which could mean looking at a single image, triggers a mandatory minimum sentence of five years. The maximum penalty for receiving or distributing child porn is 20 years, and federal sentencing guidelines recommend stiff enhancements based on factors that are very common in these cases, such as using a computer, possessing more than 600 images (with each video clip counted as 75 images), and exchanging photos.
The charges against Fogle say he had sex with a 17-year-old "escort" at two New York City hotels in 2012 and 2013. The age of consent in New York is 17, so the only state offense he seems to have committed on those occasions is patronizing a prostitute, a Class A misdemeanor punishable by up to a year in jail.
Fogle's plea agreement says he also had sex with that girl when she was 16 and with another prostitute the same age—acts that in New York qualify as rape in the third degree, a Class E felony punishable by probation or up to four years in prison. Under federal law, by contrast, Fogle is guilty of traveling across state lines "for the purpose of engaging in any illicit sexual conduct," which is punishable by up to 30 years in prison.
In short, while Fogle might have received a sentence as short as two years under state law, under federal law he was guaranteed to get at least five years and could have been sent to prison for as long as 50 years (assuming he had to serve sentences for the two charges consecutively). Under his plea deal, he still faces that five-year mandatory minimum, but prosecutors have agreed not to ask for more than 12.5 years.
Although the decision to federalize this case had a dramatic impact on Fogle's likely punishment, the official reasons for doing so have little or nothing to do with the gravity of his offenses. The fact that he had sex with teenagers in New York rather than Indiana does not make his actions worse; neither does the fact that Taylor used "camera equipment, computers, cell phones, and storage media manufactured outside the State of Indiana."
Fogle's behavior—especially his failure to report Taylor's voyeuristic activity, which allowed it to continue—was surely reprehensible. But the penalties he faces are similar to Indiana's penalties for sexually assaulting a child, something neither he nor Taylor is accused of doing. Looking at pictures is not a violent crime, and it should not be treated like one.
© Copyright 2015 by Creators Syndicate Inc.