New York City Goes Nuts Over Topless Women in Times Square
But it's not illegal.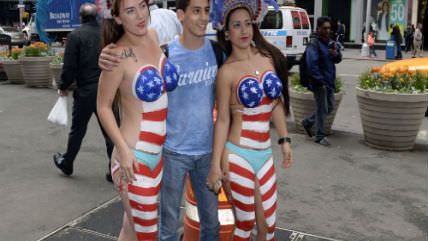 Times Square is being invaded by topless women and New York Mayor Bill de Blasio is none too happy about it. On Thursday, he announced that he will be working with a task force to "ensure NYC families and visitors can enjoy the area without being harassed."
But these women—wearing nothing but a thin layer of body paint and a thong—are not breaking the law. It is legal for anyone to be topless in the city. In order to celebrate this freedom, GoTopless, an organization that advocates for women's right to go bare-chested in public, will be hosting an NYC Go Topless Pride Parade on Sunday.
Reason TV's Joshua Swain covered the 2012 GoTopless parade held in Washington, DC . Video was originally published on September 1, 2012.