Adults Who Sext Have Better Relationships, Says Study
But can adults be prosecuted for consensual sexting? Maybe.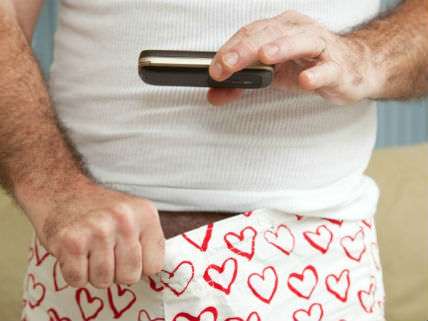 My colleagues at Reason have been fully covering the prudish Jihad against emailing and texting naughty pictures. Sure, some attempts at sexting are just sadly creepy, and some ill-advised, but the activity is not associated with any notable increase in America's background level of depravity. Back in 2012, Radley Balko reported:
In a survey by the University of New Hampshire's Crimes Against Children Research Center, only 1 percent of respondents between the ages of 10 and 17 admitted to transmitting pictures of their naked buttocks, genitals, or breasts in the previous year.  That result is similar to the findings of a study reported by the Pew Research Center in November but far lower than the number that fueled a wave of sext panic in 2009, when the National Campaign to Prevent Teen and Unplanned Pregnancy claimed 20 percent of 13-to-19-year-olds had shared "nude or seminude" images of themselves.

"This has been reported as if it were something that everyone was doing," University of New Hampshire sociologist Janis Wolak, a co-author of the study, told The New York Times. "It's really not the case."
Whatever the amount of teen sexting there may be, those folks concerned about it should be heartened by U.S. Department of Justice data that show that since 1994, the rate of rape and sexual assault of youths aged 12 to 17 has dropped by 68 percent. Putting teens in jail or forcing them to register as sex offenders for exchanging nude photos via cellphones on the grounds that they are spreading child pornography is just nuts.
But never mind the teenagers – a new survey by two Drexel University psychologists finds that most American adults are happily sexting away. They report that more than 80 percent of adults say that they have sexted in the past year. Moreover, they report …
…that greater levels of sexting are associated with greater sexual satisfaction and that participants who identified as single had significantly lower levels of sexual satisfaction than individuals who were casually dating or in a relationship….[and] that for individuals who are not in a "very committed" relationship, sexting is positively associated with satisfaction; however, for individuals who describe their relationship as being "very committed", sexting is unrelated to satisfaction… [and concludes] This research indicates that sexting is a prevalent behavior that adults engage in for a variety of reasons. Although the relationship between sexting and relationship satisfaction requires further attention, these findings indicate a robust relationship between sexting and sexual satisfaction.
Fortunately, it is not illegal for consenting adults to engage in consensual sexting. Or is it? In a recent law review article Duke University Northern Kentucky University law professor Jennifer Kinsley points out that federal criminal law imposes strict record keeping requirements on anyone producing sexually explicit materials. Kinsley explains: 
The breadth of the statutory scheme is startling. On its face, Section 2257 imposes significant, costly, and time-consuming record-keeping requirements on even the most innocuous producers of private, consensua sexually explicit content unintended for sale or even modest distribution. As written, the statute requires married couples, those in committed relationships, and even individuals documenting their own bodies strictly for their own private and legitimate uses to comply with the record-keeping, labeling, and inspection provisions.
Surely no federal prosecutor would ever consider using laws meant to regulate commercial pornography to go after private individuals, right? The precedent of prosecutors applying laws meant to punish child pornography to teen sexting suggests otherwise.