When Drug Warriors Burn a Baby, Who's to Blame?
A federal indictment reopens questions about a raid that critically injured a toddler.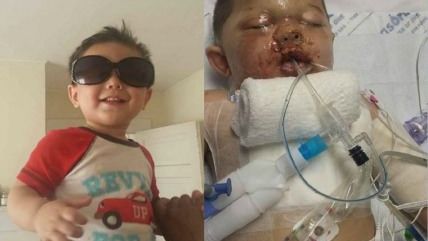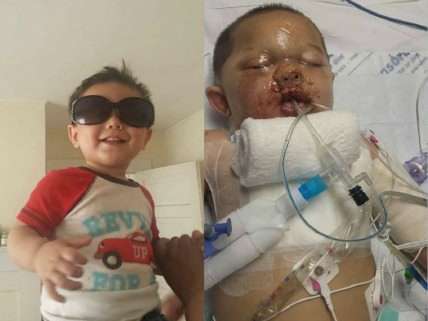 Last year a Georgia drug raid that critically injured a toddler horrified people across the country and prompted much discussion of paramilitary police tactics. This week a federal grand jury indicted the cop who initiated the raid for lying on the search warrant application. In my latest Forbes column, I argue that the problems reflected by this sickening incident go far beyond police dishonesty:
Shortly after midnight on May 28, 2014, Habersham County, Georgia, Deputy Sheriff Nikki Autry asked Magistrate Judge James Butterworth for a "no knock" warrant to search a house on Lakeview Heights Circle in Cornelia. In her application, Autry, a special agent with the Mountain Judicial Circuit Narcotics Criminal Investigation and Suppression Team, said a confidential informant "was able to purchase a quantity of methamphetamine from Wanis Thonetheva" at the house she wanted to search. She said the informant was known to be "true and reliable," having "provided information in the past that has led to criminal charges on individuals selling illegal narcotics in Habersham County." She added that she had personally "confirmed that there is heavy traffic in and out of the residence."

According to a federal indictment announced yesterday, none of that was true. The confidential informant was newly minted and therefore had no track record, and it was his roommate who claimed to have bought meth from Thonetheva. "There was no police surveillance to verify the purchase," federal prosecutors say. Nor did Autry monitor the house to verify that a lot of people were going in and out. According to the indictment, she made up those crucial details to manufacture probable cause for a search.

Ordinarily such misrepresentations might never come to light, and if they did few people aside from defendants and their lawyers would care. But in this case, the warrant that Autry obtained led to a drug raid that critically injured a toddler, which made it a national news story. Images of a smiling little boy juxtaposed with pictures of him lying unconscious in the hospital, horribly disfigured by a flashbang grenade tossed into his playpen during the raid, prompted much discussion of police tactics but not enough consideration of the goals served by those tactics. The war on drugs, as the name suggests, is inherently violent, and as long as it continues we are sure to see more tragedies like this one.