Federal Grand Jury Charges Georgia Cop With Lying to Justify Drug Raid That Multilated a Toddler
Bou Bou Phonesavanh may get some justice after all.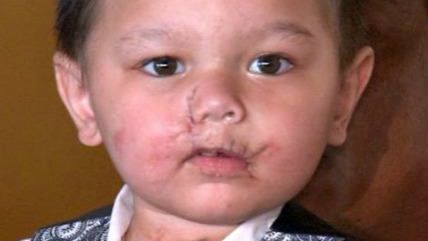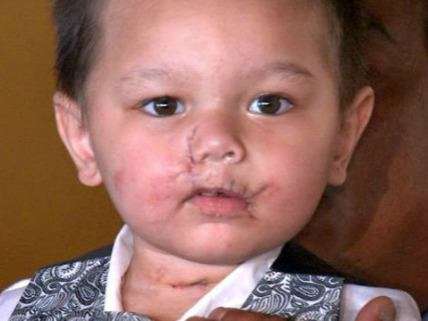 Today John Horn, the acting U.S. attorney for the Northern District of Georgia, announced that a federal grand jury has approved an indictment charging former Habersham County Deputy Sheriff Nikki Autry with lying when she applied for the search warrant authorizing a May 2014 drug raid that critically injured a toddler. According to the indictment, Autry falsely claimed a confidential informant who had provided reliable information in the past had bought methamphetamine from Wanis Thonetheva at his mother's house in Cornelia. In truth, the informant was newly minted, and it was his roommate who claimed (without verification) to have bought drugs at the house. That lie was the basis for the early-morning, no-knock raid during which 18-month-old Bounkham "Bou Bou" Phonesavanh, Thonetheva's cousin, was nearly killed by a flash-bang grenade that landed in the playpen where he was sleeping.
The Habersham County grand jury that investigated the case also faulted Autry, although not by name, and "gave serious and lengthy consideration as to whether to recommend criminal charges." But it concluded that her resignation "in lieu of possible termination," combined with her surrender of the "peace officer certification" that enabled her to work in law enforcement, was sufficient punishment. The grand jurors' main concern was the sloppiness of the investigation that led to the raid, including the failure to verify that no children were present in the home. They implied that Autry had been negligent but did not accuse her of lying.
By contrast, the federal indictment charges Autry with knowingly violating the Fourth Amendment rights of Bou Bou, his family, and Thonetheva, whose arrest at a different location later that morning was based on the same information. "This information that Defendant Autry provided and swore to was false," the indictment says, "because, as Defendant Autry then well knew: (1) [the confidential informant] did not purchase a quantity of methamphetamine from [Thoneteva] during her investigation; (2) [the confidential informant] had not provided information in the past that led to criminal charges [against] individuals selling illegal narcotics in Habersham County, Georgia; and (3) she had not confirmed that there was heavy traffic in and out of the residence."
This is what Bou Bou's parents, Bounkham and Alecia Phonesavanh, have been saying all along. In a lawsuit filed last February, they accused Autry of several crucial misrepresentations that supposedly justified the paramilitary attack in which their son was horribly injured. Apparently Horn, the acting U.S. attorney, found merit in those allegations. Last April, Habersham County agreed to a $1 million settlement with the Phonesavanhs, who say Bou Bou's medical expenses already have exceeded that mount.
[via BuzzFeed News]