Drop That Snack!
L.A.'s long war against working-class people eating tamales, tacos, Cheetos, and other tasty food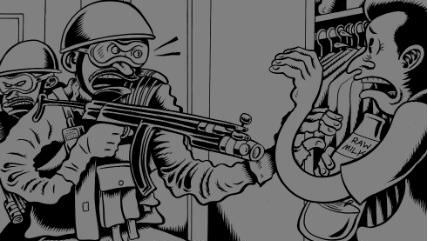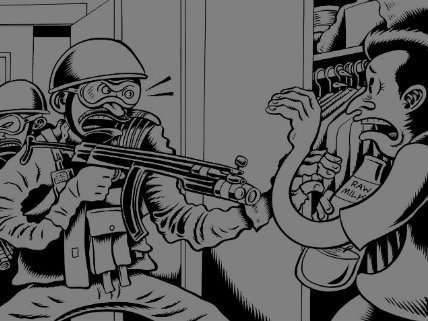 In 1985, legendary food critic Ruth Reichl wrote an essay for the Los Angeles Times that sounded ludicrous then and just pathetic today. She was reviewing Border Grill, a nouveau Mexican restaurant in Los Angeles' ever-hip Melrose district run by Mary Sue Milliken and Susan Feniger—nowadays food royalty, but back then two hotshot Midwestern chefs. The review rightfully raved about the food, and Border Grill continues to feed suburban moms and their rich husbands to this day.
But then Reichl inadvertently gave readers a taste of the tortured food psychology that eternally infests America's second-largest city. "It looks like all the people who keep asking when Los Angeles is going to get a great Mexican restaurant," she enthused, "may finally have an answer."
This, in a city that was almost one-third Latino. That had once been a part of Mexico. That was swarming with Mexican eateries of every provenance, from taco trucks to diners to white-tablecloth and beyond. But because those spots were popular with the working class—whites and Latinos—they didn't count.
In Reichl's defense, she was just verbalizing what most of the city's learned class thought, then and now. For decades an innovator in food trends—from fast food chains to the California cuisine of Wolfgang Puck and Nancy Silverton to Mexican everything, Korean grub, food trucks, Taco Bell, prepared foods (canned menudo! frozen burritos!), Wienerschnitzel, so much more—Los Angeles is America's ultimate food laboratory. Whether you're a gourmand or a grubber, what's being eaten here by kids and workers today will show up in Topeka in a couple of years. Hey, Jayhawkers: Get ready for bacon-wrapped hot dogs!
But Los Angeles, particularly though not only in the 21st century, has also become a place for do-gooders to try to govern the habits of the public gut. Those bacon-wrapped hot dogs, sold off of carts, are nowadays as much a part of the Angeleno nightlife as Dodgers broadcaster Vin Scully and nosy po-po. But said po-po usually impound said carts under orders from health officials who are afraid eaters will die from the unholy union of pork on pork. It's the way of L.A.: From banning new fast food restaurants to arresting people who sell raw milk to cracking down on backyard chicken coops, Los Angeles has set the standard for the rest of the country on how to legislate against our right to nosh on what we want. And the hammer inevitably falls on the common man.
"California produces and innovates and eats in ways the rest of the U.S. and increasingly the world notices," says Ernesto Hernández-López, a law professor at Chapman University in Orange who has written about Southern California's taco-truck wars. "At the same time, local and state interests inspire crackdowns on the innovation. Because many trends happen here first, so do the efforts to regulate them."
To paraphrase H.L. Mencken: L.A.'s official food policy seems to operate on the haunting fear that someone, somewhere, may be happily eating.
More and more, those two worlds of L.A. culinary innovation—the elite and the street—are colliding. Roy Choi, the fusion taco artist who revolutionized American cooking nearly a decade ago with his Kogi Korean BBQ truck, made his name popularizing among hipsters what had long been a staple of the California working class, especially Mexican immigrants. He has now become an active proselytizer for bringing top chefs into the 'hood—in order to save the very people who invented the taco truck and know all about organic food from their home countries and their own eating habits.
"There are no chef-driven restaurants in the 'hood," where people are "starving" for quality food, Choi complained to a rapt audience at the 2013 MAD Symposium, an annual event held in Copenhagen that's like a TED Talk for the foodie set. "Not one….The restaurants that do exist are fast food chains." His suggestion? "What if every high caliber chef, all of us in here, told our investors as we're building restaurants…for every fancy restaurant we build, it would be a requirement to build a restaurant in the 'hood as well?"
I guess Choi doesn't think all the loncheras and street vendors in barrios across the U.S. count as "chef-driven." But where chef-shaming might fail, bans can succeed. Celebrity foodie Jamie Oliver relocated the second season of his ABC reality show Food Revolution to L.A. so he could play the Great White Father fighting for brown and black kids against the evil Los Angeles Unified School District and its vile school lunches. Oliver's crowning achievement? Getting the district's trustees in 2012 to bar the insanely flavorful Flamin' Hot Cheetos from all campuses.
The contemporary progressive food philosophy, best epitomized on the national level by Michelle Obama's Let's Move! program, is based on the notion that the country's fat, diabetic, unhealthy working classes are simply too derelict to make informed food choices. That decades of corporate greed have led to so-called "food deserts" and "food apartheid," in which chain restaurants and liquor stores are blighting neighborhoods and serving up what Choi described as "corrosive chemical waste." That salvation lies only in going back to the land—putting farmers markets in low-income neighborhoods and promoting organic, sustainable foodways from elementary school through adulthood.
This mind-set produced a first-of-its-kind food policy in Los Angeles in 2011. That's when the City Council enacted a ban on new fast food restaurants being built in South Central.
"There are people who are accused of being the food police, of trying to control what goes into people's mouths," council member and bill sponsor Bernard Parks, the former Los Angeles police chief, told the Los Angeles Times back then. "But we just don't think that we need to give fast food more rights around here. We don't think our community needs to have 10 or 15 or 18 ways to eat a hamburger."
Increasing poor people's food choices by limiting them. Only a modern politician could come up with that, you might think. But in fact L.A.'s culinary nanny state has roots in academia and salon culture, and has served as a cudgel for the downtown and Westside power elite to use against unloved brown folk since the 19th century.
'They Were Born of the Pueblo—They Perish in the Metropolis'
The Golden State's propensity to shame and police what people eat is in its DNA. The Spanish missionaries who colonized California in the late 1700s fed their Indian wards a European diet of bread, wheat, and livestock, keeping them from the plants and animals that had nourished them for generations. Fray Mariano Payeras, who had worked with the indigenous in Southern California, confessed to his superiors in 1820 that this decreed diet was downright murderous. "They live well free," he said of the Indians, "but as soon as we reduce them to a Christian and community life they decline in health, they fatten, sicken and die."
Things didn't get any better once California became part of the United States. As Los Angeles transformed from dusty Mexican cow town to emerging American commercial capital, politicians decided civic health was imperiled by Mexican food—specifically tamales, that most quintessential of Mexican meals. Around the 1880s, entrepreneurs began selling the toothsome treats from horse-drawn wagons, either going from town to town or hitching up to a single location. These tamaleros proved extremely popular in downtown L.A., filling the needs of thousands of migrants, gringo and Mexican alike, who craved cheap, delicious grub.
Watching the hoi polloi enjoy their food proved unbearable for city fathers. In 1897, the City Council tried to keep tamale wagons from opening until 9 p.m.; four years later, the police chief recommended they close at 1 a.m. since they offered "a refuge for drunks who seek the streets when the saloons are closed for the night."
Not wanting to miss out on the action, L.A.'s school trustees warned parents that tamales were not nutritious, and thus began constructing kitchens to offer healthier lunches for students. In fact, the first school cafeteria in the country opened at Los Angeles High in 1905 after officials "long waged a crusade against the tamale wagons," according to the Los Angeles Herald. For Anglo adults, grumpy cooks serving gargantuan portions of Midwestern food were a tool to beat back the Mexicans.
Yet year after year, the tamaleros came back—demand was too strong. Eventually a combination of more restrictions plus the construction of Olvera Street, a city-endorsed mock Mexican street with many eateries offering prim-and-proper takes on comida mexicana, finally pushed the tamale wagons out of existence.
"They belong not to the new order of things," the Los Angeles Times harrumphed in 1924, as the last tamale wagons left city streets. "They were born of the pueblo—they perish in the metropolis."
Not for the last time, the Times got it wrong. Street food didn't perish in the City of Angels; it just went dormant, waiting for a later generation to love it anew and another wave of politicians to freak out.
Fast Food Nation
The suburbs of Los Angeles during the 1950s, teeming with cheap housing, middle-class jobs, and cars for days, produced the most creative explosion of fast food in American history. Pioneers like Ray Kroc of McDonald's, Glen Bell of Taco Bell, and Harry and Esther Snyder of In-N-Out Burger preached convenience and cleanliness to Space Age America, as their franchises and many others—Bob's Big Boy, Pioneer Chicken, Winchell's Donuts, Naugles—quickly spread across the Southland and beyond. Angeleno politicians mostly let them be, because fast food represented progress.
Meanwhile, a surge of Mexican immigrants in the 1960s brought street vendors back to the L.A. landscape. One of them was Raul Martinez Sr., who began selling tacos from an ice cream truck in the East Los Angeles barrio in 1974. That lonchera started Southern California's legendary King Taco chain, and it is acknowledged as the first true taco truck in America.
L.A.'s eternal protectors soon sprung into action against the lonchera reconquista. The same year Martinez opened his first truck, the City Council tried to ban sidewalk vending; only the veto of then–Mayor Tom Bradley stopped the move. In stark contrast to the present-day paternalism of Councilmember Parks, Bradley's explanation sung the praises of self-sufficiency: "I believe we need to encourage, not discourage, the creation of new small-business enterprises, without which upward mobility on the socioeconomic ladder would become that much more difficult." Imagine that.
The Council would eventually get its way in 1980, but successive councils lifted the ban in the 1990s (though only in specific districts), then rescinded that move in 2006. (The L.A. City Council, the country's highest paid, is nothing if not busy.) Two years later, members tried to prohibit taco trucks—by then, a bona fide phenomenon with legal standing due to trucks having to get inspected at commissaries every night—from parking too long in the same spot, which would have effectively ruined their business model. Only a social media-enabled uprising by loncheros and their fans shamed the Council into backing off.
Lest it be accused of food racism against Mexicans, the Council then turned its crosshairs on fast food in black (though increasingly Latino) South Central. By then, chains such as McDonald's and Carl's Jr. had become persona non grata in popular and intellectual culture, thanks to the likes of Fast Food Nation and "healthier" options like Chipotle and Panera Breads (never mind that the calorie count on some of the latter chains' entrees rival that of a candy shop). Fast food was no longer the meal of the middle-class future but the death-sentence of the lower-class damned.
A 2005 report by the Centers for Law and the Public's Health at Johns Hopkins and Georgetown, titled "The Use of Zoning to Restrict Fast Food Outlets: A Potential Strategy to Combat Obesity," provided the blueprint for progressives dreaming of putting Ronald McDonald on the run. "Given the significance of the obesity epidemic in the United States and the scientific evidence and legal basis supporting the zoning of fast food outlets," authors Julie Samia Mair, Matthew W. Pierce, and Stephen P. Teret concluded, "municipalities have an effective, yet untried, tool to address obesity in their communities."
Scholarly backing in hand, activists and nonprofits turned the screws on L.A.'s progressive leadership. In classic Californian Democratic Orwellianspeak, Councilmember Jan Perry in 2008 pitched a one-year crackdown in her South Central district (now rebranded as South L.A.) not as picking on fast food but rather creating a freer market for the poor. "This ordinance is in no way attempting to tell people what to eat but as responding to the need to attract sit-down restaurants, full service grocery stores, and healthy food alternatives," Perry declared in a press release. "Ultimately, this ordinance is about providing choices—something that is currently lacking in our community."
To the surprise of no one, the "temporary" ban became permanent in 2011.
Activists have tried other tactics besides prohibition. A farmers market and cooperative run by the South Central Farmers—who famously transformed 14 acres of vacant land in the area during the early 2000s into one of the largest urban farms in the United States, only to see it bulldozed by the L.A. Sheriff's Department at the behest of the absentee landowner—operates in the area, and nonprofits teach area children about the glories of healthy living. A Northgate Gonzalez Supermarket (a Mexican chain that—full disclosure—my dad works for as a truck driver) opened last year with help from the California FreshWorks Fund, a public-private partnership loan fund designed to bring healthy food to downtrodden 'hoods. "This is a chance to see L.A. rising, with jobs, fresh food, and new commercial infrastructure in South L.A," Mayor Eric Garcetti said during its opening in the spring of 2014.
With Choi opening up Loco'l, his healthy-fast-food chain, sometime this year, South Central is living up to its reputation as a Mecca for food activists. But what about the people who actually live there?
A damning RAND Corporation report this year found that despite the frenetic attempts at banning and re-education, obesity levels between 2007 and 2012 in South L.A. increased, and fast food consumption stayed the same.
Advocates of the ban tried desperately to spin the results. "We never believed it was going to be an overnight situation where all of a sudden the community was going to be healthy," Parks insisted to the L.A. Times. Yet the community continues to vote with their mouths, in ways that government nannies frown upon and will never understand.
Raw Deal for Raw Milk
L.A.'s hostility toward food innovators isn't limited to restaurateurs. In August 2011, after a yearlong investigation, authorities made national headlines by arresting three employees of a Venice health store called Rawsome Food. Officers staged a dramatic raid and dumped thousands of gallons of the offending milk, saving customers—none of whom had complained—from its sweet tang.
Two years before the raw milk crackdown, health inspectors began targeting Latino door-to-door salesmen for hawking a special cheese from the Mexican state of Oaxaca called quesillo, which is like a creamier mozzarella. The narcs claimed that unpasteurized, unlabeled fromage might harm people, citing a massive outbreak of listeriosis in Mexican-style soft cheeses in 1985 that killed 28 people and harmed 142. (That outbreak, though, was caused by a state-licensed mass producer of cheese.)
Though representing two vastly different segments of society—Rawsome's clients were mostly well-off health-food zealots, while quesillo fans are overwhelmingly recent Mexican immigrants—the two crackdowns paradoxically demonstrated that Californians are increasingly comfortable with buying products that don't come from a supermarket. Indeed, the Great Recession of 2008 created a bona fide food revolution in Southern California, with people reverting to the past and learning how to make their own jams, jellies, preserves, confections, jerky, and more that they then sold online and at craft fairs. The demand proved so great that in 2011, L.A. County was able to resume its Master Food Preserver program—a multi-week series of workshops and lectures run by the University of California Cooperative Extension—for the first time in more than a decade.
In response, the California Assembly in 2013 passed a so-called cottage food law, which allows for the home- production and selling of food goods like toffee, granolas, and jams. Of course, being California, this new freedom comes with red tape galore—training, sanitation, prep, and inspections virtually whenever local health inspectors feel like it.
This zig-zagging between crackdown and liberalization, between celebrating entrepreneurship and hating on corporations, puts a lot of discretion in the hands of enforcers.
"A law creates a line," the law professor Hernández-López explains. "Whether it is enforced and who it is enforced on is another question…I think cities will continue to crack down on food rebels if monied and voter interests ask leaders to do that. In California, so much of this is motivated by NIMBYism and subtle racism of migrants and populations of color living in only certain areas. The crackdown will argue unfair competition and safety, but often there is an unstated assumption that is being questioned by rebels."
Rebels like my chorizero, Celso. Celso has been feeding people from my parents' Mexican ancestral villages for as long as I can remember, preparing his take on the classic Mexican spicy sausage according to the exacting standards we demand (extra on the chile de arbol, por favor). The 65-year-old and his sons raise their own pigs in the Inland Empire, slaughter them, and sell off the products to a loyal clientele.
Celso is just one of the dozens of street vendors who have fed me my entire life, from outlaws who smuggle in cheeses and quince paste to people who sell us goat meat from their own herds to the kind women who make fresh corn on the cob to guys who make homemade pulque. Not once have my family or friends suffered food poisoning from these vendors in all these years.
When asked if he'd ever like to go legal, Celso laughed.
"No, I'm fine selling like this," he said. "I've sold chorizo here now for 40 years, with never a complaint, never a bad deal. If I tried to open up a store, I'd get all these inspections, and they'd tell me my pigs are bad, my chiles can't be brought over from Mexico, and that I don't know how to do this. I don't need the pinche americanos to tell me what I know and don't know."
Come and pry Celso's chorizo from my cold, dead hands, L.A.
This article originally appeared in print under the headline "Drop That Snack!".