'Dozens' of Commutations Are Good; 'Thousands' Would Be Better
If correcting clear injustices is the aim, Obama can do a lot more.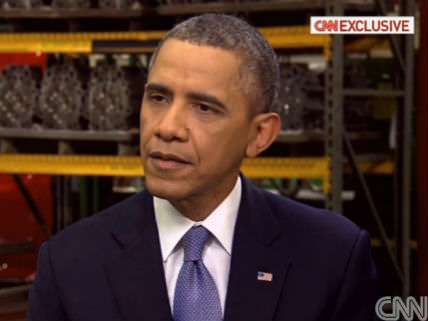 President Obama, who during his first term commuted exactly one sentence, has picked up the pace recently, granting early releases to a total of 43 prisoners so far. Now The New York Times reports that "sometime in the next few weeks," Obama plans to grant commutations to "dozens of federal prisoners locked up on nonviolent drug offenses." The Times says his total at that point "may surpass 80." If so, Obama's commutation record, which was once stingier than any modern president's, will exceed that of every president since Lyndon Johnson. But it will still pale beside the "hundreds, perhaps thousands" of commutations predicted by an unnamed "senior administration official" last year.
Obama's total will look even smaller as a share of the 17,000 or so commutation petitions the Justice Department has received since 2009. Or the 30,000 prisoners who contacted the Clemency Project—a joint effort by the American Bar Association, the American Civil Liberties Union, the National Association of Criminal Defense Lawyers, and Families Against Mandatory Minimums—after the DOJ signaled a new openness to commutation petitions in April 2014.
The DOJ said it would give special attention to petitions from "non-violent, low-level offenders" who have served at least 10 years of a sentence that would have been shorter under current law, "do not have a significant criminal history," have "demonstrated good conduct in prison," and have no "significant ties to large-scale criminal organizations, gangs or cartels." The Times says the Clemency Project, assisted by "more than 50 law firms, more than 20 law schools and more than 1,500 lawyers," has been sifting through the applicants, looking for prisoners who meet the DOJ's criteria. "The process is burdensome as the volunteer lawyers try to dig out documents from more than a decade ago," the Times reports. So far they have "screened out 13,000 inmates who did not meet the guidelines and sent just over 50 applications to the Justice Department."
Those details raise a couple of important questions: Why is the DOJ relying on volunteers to do its work, and why is it being so picky? As the huge backlog of petitions indicates, the Office of the Pardon Attorney has never had the will or the resources to review more than a small share of the commutation applications it receives, especially if the aim is to avoid the political embarrassment of freeing prisoners who seem unsympathetic on closer examination or commit new crimes after they are released. But the task would be much easier if the aim were simpler—say, freeing people who are serving sentences longer than the ones currently considered appropriate for the offenses they committed.
An estimated 8,800 prisoners, for example, could benefit from retroactive application of the shorter crack sentences that Congress approved in 2010. They are serving terms that pretty much everyone, including the president, now considers unjust. That should be reason enough to grant them clemency, regardless of whether they meet the other DOJ criteria. Other categories—nonviolent offenders serving life sentences, for instance, or prisoners sentenced to decades behind bars based on weapons they never brandished, let alone fired—are not as big but likewise seem like obvious candidates for commutation without the need for a detailed, case-by-case examinations of their lives. By focusing on clear injustices like these, Obama could free many more people who do not belong in prison. Isn't that the point?