Bobby Jindal Signs Bills Reducing Pot Penalties and Authorizing Cannabis for Patients
Louisiana's marijuana laws, among the harshest in the country, become a bit less harsh.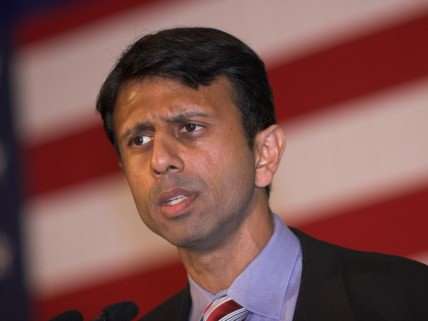 This week Louisiana Gov. Bobby Jindal signed bills that reduce his state's marijuana penalties, heretofore among the harshest in the nation, and establish a system for supplying cannabis to patients suffering from certain medical conditions. The latter law, which may take a couple of years or more to fully execute, makes Louisiana the first Southern state to legalize medical marijuana (as opposed to low-THC, high-CBD extracts of the plant) and create a supply mechanism for it.
The New Orleans Times-Picayune notes that "Jindal did not issue a press release explaining why he signed the bills or offer any commentary about the importance of the two bill signings." But the fact that Jindal felt comfortable signing two marijuana reform bills while running for the Republican presidential nomination reflects how far the drug policy debate has progressed in recent years. No doubt it helped that the Louisiana Association of Sheriffs, which had opposed reform in the past, took no position on the bills this year.
Under Louisiana's old law, possessing even the smallest amount of cannabis was punishable by up to six months in jail and a $500 fine for the first offense, up to five years and a $2,500 fine for a second offense, and up to 20 years and a $5,000 fine for subsequent offenses. Under H.B. 149, which Jindal signed on Monday, possessing up to 14 grams of marijuana (about half an ounce) is punishable by no more than 15 days in jail and/or a $300 fine. The maximum term rises to six months for a second offense, two years for a third offense, and eight years for subsequent offenses. The corresponding maximum fines are $1,000, $2,500, and $5,000, respectively. The enhanced penalties for a second offense do not apply if it is committed two or more years after the sentence for the first offense is completed, but cannabis consumers can use that get-out-of-jail card just once.
Louisiana's marijuana penalties are still pretty heavy, especially compared to what you get for possessing up to 10 grams in Maryland (a $100 civil fine), up to 28.5 grams in California (ditto), up to an ounce in Colorado or Washington (nothing), or less than two ounces in the District of Columbia (ditto). But at least it will no longer be even theoretically possible to serve two decades in prison for being caught with a joint on three different occasions in the Pelican State. "Louisiana's overdue for a major overhaul of its drug policies, and this is a good first step," says Yolande Cadore, director of strategic partnerships at Drug Policy Action, the lobbying arm of the Drug Policy Alliance (DPA). DPA notes that "the U.S. has the highest incarceration rate of any country in the world," and "Louisiana has the highest rate in the U.S."
DPA mentions the case of Bernard Noble, who was sentenced to 13 years in prison after New Orleans police caught him with three grams of marijuana in 2010. That prison term was dictated by Louisiana's "habitual offender" law because Noble had two prior convictions for minor, nonviolent marijuana and cocaine offenses. It looks like Noble would not have received such a jaw-dropping penalty if H.B. 149 had been law when he was arrested on those marijuana charges, since they would not have qualified as felonies.
The Louisiana legislature has approved medical marijuana bills twice before, in 1978 and 1991, but a supply never materialized because the Department of Health and Human Services never issued the necessary regulations. S.B. 143, which Jindal also signed on Monday, requires the Louisiana Board of Pharmacy to issue "rules relating to the dispensing of prescribed marijuana for therapeutic use" by December 1, 2016. It charges the Department of Agriculture and Forestry with regulating the production of marijuana, which is to be dispensed by specially licensed pharmacies. The law authorizes a single production license and gives the Louisiana State University Agricultural Center and the Southern University Agricultural Center "the right of first refusal." If neither institution is interested, the department is supposed to find a grower through a competitive bidding process. There don't seem to be any deadlines for completing this process, so it's not clear how long it might take.
Qualifying conditions are initially limited to glaucoma, spastic quadriplegia (a kind of cerebral palsy), and the side effects of cancer chemotherapy. The Louisiana State Board of Medical Examiners can recommend that legislators add other conditions.
Since Louisiana's medical marijuana law instructs the Board of Medical Examiners to "promulgate rules and regulations authorizing physicians licensed to practice in this state to prescribe marijuana," it raises the same issue as a cannabis oil bill that was approved by the Texas legislature in May and signed into law on June 1: Does "prescribing" marijuana, as opposed to merely "recommending" it, violate the federal Controlled Substances Act? In Conant v. Walters, the 2002 decision upholding a doctor's First Amendment right to advise patients about marijuana's potential for relieving their symptoms, the U.S. Court of Appeals for the 9th Circuit said "the plaintiffs agreed with the government that a doctor who actually prescribes or dispenses marijuana violates federal law." The court noted (and rejected) the government's argument "that the 'recommendation' that the injunction may protect is analogous to a 'prescription' of a controlled substance, which federal law clearly bars."
According to the 9th Circuit, the difference between a recommendation and a prescription depends on the doctor's intent: "If, in making the recommendation, the physician intends for the patient to use it as the means for obtaining marijuana, as a prescription is used as a means for a patient to obtain a controlled substance, then a physician would be guilty of aiding and abetting the violation of federal law." Assuming that interpretation of the law is correct, any system in which a doctor gives a patient a prescription that the patient brings to a pharmacy and presents in order to obtain marijuana would implicate the doctor in a federal crime. Whether that is actually the case may depend on the details of the regulations written by Louisiana's Board of Medical Examiners.