Los Angeles Police Shoot Unarmed Man in Head, Roll Him Over, Handcuff Him
The handcuffing was definitely appropriate, says LAPD.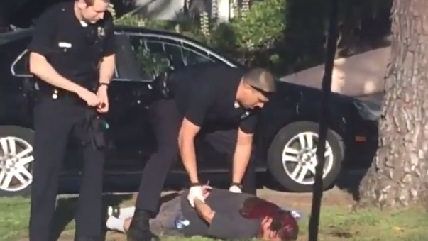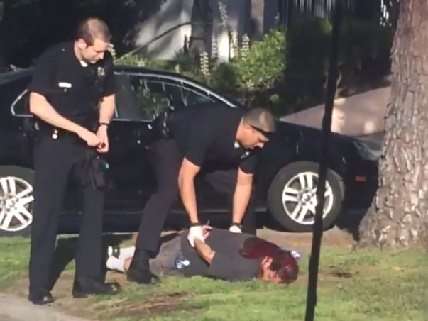 Los Angeles police shot a man in the head on Friday—supposedly out of concern that he was concealing a weapon under the towel he was holding. They later discovered that the man was unarmed.
But first, the officers rolled the unconscious man—who was bleeding from the head wound—onto his stomach so that they could handcuff him. He was later taken to the hospital and is in critical condition.
It's unclear whether the officers had any reason whatsoever to suspect that the man was dangerous. The incident occurred in broad daylight in the relatively safe neighborhood of Los Feliz. The officers were driving by when the man flagged them down, calling "police, police." According to the Los Angeles Times:
The man flagged down officers about 6:35 p.m. at Los Feliz Boulevard and Tica Drive south of Griffith Park, according to a police account.

"This person extended an arm wrapped in a towel. The officer exited the vehicle and said, 'Drop the gun, drop the gun,'" LAPD Lt. John Jenal said.

At that point at least one officer shot the man, officials say. He was taken to a hospital where he was listed in critical condition.
The aftermath was caught on video by a neighbor. The disturbing footage shows the officers handcuffing the man even though he was in very, very bad condition. Nevertheless, a spokesperson for the LAPD confirmed that proper protocol had been followed:
LAPD Cmdr. Andrew Smith, a department spokesman, said the officers followed standard LAPD protocol in handcuffing the man when they did. At that point, Smith said, the man had not been searched and was considered a suspect.

"We always do that," Smith said. "That's the policy … to handcuff someone in a situation like that."

Smith cautioned that the investigation into Friday's shooting was still in its early stages. One of the key questions, he said, was why the man flagged down the two uniformed officers.
Smith seems to think "suicide-by-cop"—where a person intent on ending his own life deliberately provokes the police into firing a kill shot—is a possibility here. But maybe the man simply needed some kind of assistance, and didn't realize holding a towel would be interpreted as a threat.