Creditors Lose Patience, Walk Out of Negotiations With Greece
Looming threat of Grexit still looming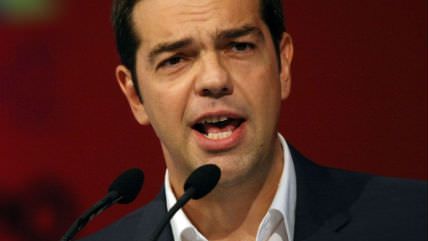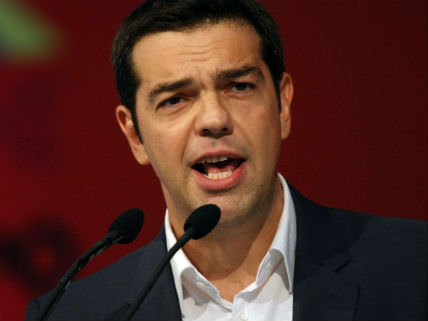 Tensions in Europe have boiled over.
Earlier today, representatives of the International Monetary Fund (IMF) walked out of debt negotiations with Greece. You may recall I wrote about these negotiations, saying time was running out for the two sides to come to an accord, back in February. And again in March. And in April. As Matt O'Brien at The Washington Post blogged today, the whole thing has taken on a Groundhog Day–like feel.
Basically, the Greek government owes the international community more money than it can possibly pay back. The country must remain in its creditors' good graces or face default to the tune of several-hundred-billion dollars, which could force it to exit the European monetary union.
But Greece's lefty prime minister, Alexis Tsipras, is none too pleased with the demands its creditors are making. They want Greece to continue with a program of "austerity" that includes reducing government spending, privatizing Greek assets (think: airports and railways), and trimming public pensions. Tsipras campaigned on halting just such a program (began under his predecessor in exchange for earlier bailouts) and has balked at reneging on his promises.
Greece's creditors appear to have run out of patience. Reports The Guardian:
The International Monetary Fund dramatically pulled out of talks with debt-stricken Greece on Thursday after it accused Athens of failing to compromise over labour market and pension reforms.

The Washington-based lender of last resort said its team of negotiators had quit talks in Brussels after reaching a stalemate and would be returning to Washington.

The move left the Greek negotiating team with no option but to say it would also be leaving the talks and heading home to Athens.
The international community is frustrated at Greece's refusal to take the steps required by earlier agreements. Thus far, the IMF and other creditors have held firm, banking on the belief that Tsipras will relent to avoid blowing up the Greek economy.
Meanwhile, Tsipras (and the people who elected him) are frustrated that the rest of Europe is imposing controls on their economy at a time when it's desperately struggling to recover from a deep recession. By taking a hard line at this week's negotiations, Greek representatives were themselves banking on the belief that European leaders want to avoid a "Grexit," which some think could plunge the entire Eurozone into a financial crisis, even more than Greece does.
Although the IMF negotiators' abrupt departure suggests the Greeks overplayed their hand, the two sides may yet manage to cobble together a way forward. A meeting of Eurozone finance ministers is already scheduled for next week in Luxembourg.