Rand Paul on Blocking the Patriot Act, GOP Hawks, and Edward Snowden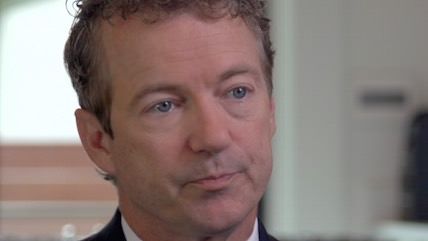 Sen. Rand Paul (R-KY) has had a busy couple of months.
In April the junior senator from Kentucky announced that he was officially running for president. In May he released his new book, Taking a Stand, which argues that only a "new kind of Republican" can win a general election against Hillary Clinton, in part by embracing such cross-partisan issues as privacy, as he did most famously in a March 2013 filibuster about drone policy.
And as the clock struck down to June, Paul fulfilled a campaign vow – and pissed off a lot of Republicans, including Senate Majority Leader Mitch McConnell (R-KY) and much of the 2016 presidential field  – by blocking reauthorization of the Patriot Act.
Reason Magazine Editor-in-Chief Matt Welch sat down with Rand Paul in his Washington, D.C. campaign office Thursday to discuss his ongoing disputes with GOP hawks like Lindsey Graham, whether Edward Snowden should go to prison, and what will be the future of NSA surveillance.
Click the link below for downloadable versions of this video, and subscribe to Reason TV's YouTube channel for daily content like this.