House Tells the Feds to Respect Medical Marijuana Laws (Again)
Congressional support for marijuana federalism seems to be rising.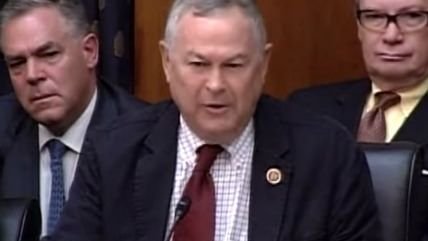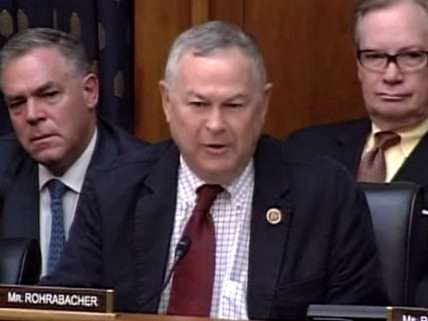 Today the House of Representatives voted to extend the Rohrabacher-Farr Amendment, which bars the Justice Department from spending money to block implementation of state medical marijuana laws, for another fiscal year. Last year the measure, which was included in the omnibus spending bill that Congress enacted in December, passed the House by a vote of 219 to 189. Today the vote was 242 to 186.
"The majority of the states have said they want medical marijuana patients to have access to the medicine they need without fear of prosecution," says Rep. Sam Farr (D-Calif.), who cosponsored the amendment along with Rep. Dana Rohrabacher (R-Calif.). "For the second year in a row, the people's house has listened to the will of the people and voted to give them that access."
Today the House also passed amendments aimed at protecting state laws allowing production of industrial hemp and medical use of nonpsychoactive cannabis extracts. The votes on those measures were 282 to 146 and 297 to 130, respectively. A broader measure that would have applied to recreational as well as medical marijuana was rejected by a vote of 222 to 206.
"There's unprecedented support on both sides of the aisle for ending the federal war on marijuana and letting states set their own drug policies based on science, compassion, health, and human rights," says Bill Piper, director of national affairs at the Drug Policy Alliance. "The more the DEA blocks sensible reforms, the more they will see their agency's power and budget come under deeper scrutiny." Today's votes follow last night's voice-vote approval of amendments aimed at cutting the DEA's budget and stopping it from indiscriminately collecting telephone metadata.
While the increased support for marijuana federalism is heartening, it is not clear whether the Rohrabacher-Farr Amendment has had any impact beyond the Justice Department's avowed policy of prosecutorial restraint, which takes a dim view of targeting people who grow, sell, or possess marijuana in compliance with state law. "Despite Congress's clear intent in passing the amendment," Farr's office notes, "the Department of Justice did not stop prosecuting medical marijuana patients and providers."
In an April 8 letter to then-Attorney General Eric Holder, Farr and Rohrabacher emphasized that "the purpose of our amendment was to prevent the Department from wasting its limited law enforcement resources on prosecutions and asset forfeiture actions against medical marijuana patients and providers, including businesses that operate legally under state law." They urged Holder to "bring your Department back into compliance with federal law by ceasing marijuana prosecutions and forfeiture actions against those acting in accordance with state medical marijuana laws."