Camera-Stealing Cop: 'How Do You Stop Your Phone?'
Police in Wake Forest, North Carolina, admit an officer was wrong to bust a bystander for recording a friend's arrest.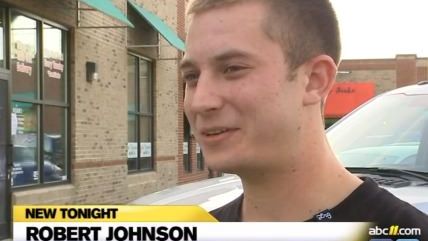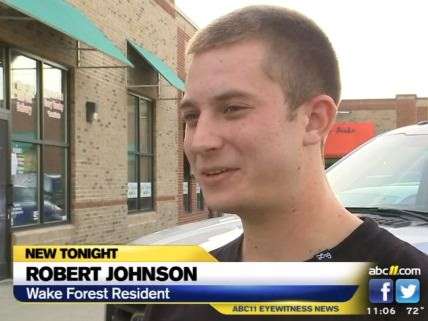 Robert Johnson was at a bar in Wake Forest, North Carolina, last February when his rowdy friend got into an argument with the staff, who evidently called the police. When the cops arrived, Johnson took out his cellphone to record his friend's arrest. "Protecting my man's civil liberties here," he explained. Although Johnson says he "kept a safe distance" (a point confirmed by the video he shot), no distance is safe enough for camera-shy cops, one of whom demanded that Johnson hand over his phone. "He said that he needed my phone for evidence 'cause I was videotaping the arrest," Johnson told WTVD, the local ABC station, "but I know that wasn't right, so I kept taping." Johnson was right about the relevant law, but that did not stop the cop from forcibly taking the phone, or from manhandling, handcuffing, and arresting him.
Even then, the officer had not accomplished his goal. "How do you stop your phone?" he asked Johnson. "You press the middle button," Johnson helpfully replied. "The stop button."
A few weeks later, Johnson got his phone back, and the charges against him—resisting and obstructing an arrest—were dropped. According to WTVD, the Wake Forest Police Department acknowledges that the officer who arrested Johnson "made a mistake" and says he "has been dealt with," but it won't discuss the matter further. Johnson is talking about suing, which explains his TV appearance.
At least four federal appeals courts have explicitly ruled that the First Amendment protects the right to do what Johnson did: record police as they perform their duties in public. Federal judges in other circuits have agreed, and so does the Justice Department. No appeals court has said otherwise. But back in 2009, the U.S. Court of Appeals for the 4th Circuit, which includes North Carolina, ruled that the right to record police was not clearly established in that circuit as of 2007.
That was the year a Virginia sheriff's deputy ordered Deborah Szymecki to stop recording her husband's arrest for carrying a gun at Norfolk Harborfest (an arrest that turned out to be illegal). In 2008 U.S. District Judge Henry Coke Morgan Jr. agreed with Szymecki that "the First Amendment protects the video recording of the actions of police officers." But because neither the Supreme Court nor any court within the 4th Circuit had previously addressed the question, Morgan said, Szymecki's suit against the deputy was blocked by qualified immunity. The appeals court upheld Morgan's decision.
It's not clear whether developments since 2007, including Morgan's own acknowledgement of the right to record, have changed the legal picture in the 4th Circuit enough for the appeals court to take a different view today. But by 2010, University of North Carolina law professor Jeff Welty was warning police to "be very cautious about ordering people not to record them, and about arresting people for recording them or for failing to obey their command to stop recording." Welty noted that "under state law, citizens can record pretty much any police encounter that they can observe." He added, citing cases in other circuits, that "officers have been sued on First Amendment grounds" for interfering with camera-wielding bystanders. The Wake Forest Police Department's admission that the cop who took Johnson's phone was wrong to do so suggests the right Johnson was exercising is by now well established even in North Carolina, although that does not necessarily mean individual officers understand or respect that right, as this case clearly shows.