What Exactly Did Rand Paul Accomplish Today? Views from D.C.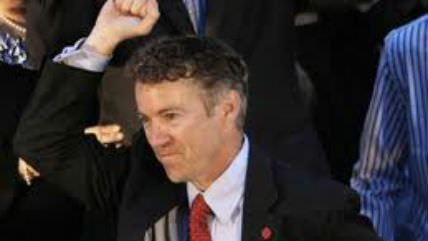 The main thing I think Sen. Rand Paul (R-Ky.) accomplished today was getting a bunch of thoroughly American, thoroughly libertarian, and thoroughly constitutional thoughts about government's power and practice to snoop on us for very little verifiable increase in our safety into the public eye in a vivid way that I hope sticks, and I hope elevates Paul's reputation and toughens his will to be in practice someone always serious about the whole Bill of Rights.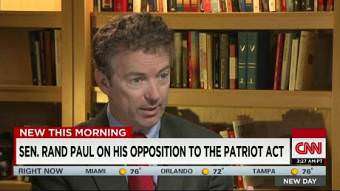 A couple of reporters in Washington who were actually there had useful summations of the sometimes arcane-to-the-rest-of-us Senate procedural issues, and inter-party politics, of what happened today because of Rand's 10.5 hour presentation.
From The Hill:, on the procedural nitty-gritty:
Shortly after Paul's speech ended, Sen. Bill Cassidy (R-La.) moved to adjourn, meaning the Senate won't be able to take a procedural vote on either a surveillance reform bill or a "clean" extension of the Patriot Act until at least Saturday.

Under Senate rules, if Senate Majority Leader Mitch McConnell moves to end debate on either bills Thursday, senators must wait until at least Saturday to take a procedural vote.

Then, if cloture is invoked, the Senate will have up to 30 additional hours of debate, putting a final vote on at least Sunday or Monday.

McConnell could try to get unanimous consent requests from all senators to try to finish up work on the trade and surveillance legislation, though it would only take one senator to block his effort. …..

If both bills fail [USA Freedom and the "clean" Patriot reauthorization], the Senate could be forced to pass a short-term extension of the spy powers, though House leadership has suggested a stopgap measure wouldn't make it through the lower chamber.

On the sidelines of Paul's speech, the Justice Department said the NSA will begin winding down the controversial program run under that law this week.
And on the partisan nitty-gritty:
The Kentucky Republican's unofficial filibuster quickly garnered bipartisan support from a handful of his colleagues. Sens. Steve Daines (R-Mont.), Mike Lee (R-Utah), Martin Heinrich (D-N.M.), Chris Coons (D-Del.), Jon Tester (D-Mont.), Maria Cantwell (D-Wash.), Richard Blumenthal (D-Conn.), Wyden and Joe Manchin (D-W.Va.) came to the Senate floor to back Paul's efforts, relieving him for minutes at a time.
You'll see more Ds than Rs, something also discussed by David Weigel at Bloomberg:
All told, seven Democrats—Wyden, Connecticut's Richard Blumenthal, Washington's Maria Cantwell, Delaware's Chris Coons, New Mexico's Martin Heinrich, West Virginia's Joe Manchin, and Montana's Jon Tester—also joined Paul on the floor, giving him the debate he'd asked for. That impressed some of the Republican members of the House who used their privilege to visit the Senate floor.

"It's very genuine of Senator Wyden to be here, supporting Rand, even though this may raise his profile in the presidential race," said Representative Tom Massie of Kentucky after one round of arguments.

"When I was on the House floor, multiple Democrats came up to me and asked me if Senator Paul would stand up for us," said Michigan Congressman Justin Amash, a Republican, who, like Massie, had endorsed Paul for president, and who had just distributed a letter from 59 colleagues opposing the Patriot Act. "They were excited—and these were Democrats."

There was less obvious support from Republicans. Florida Senator Marco Rubio, who like Cruz and Paul is running for president, presided over the debate for its final hour. He pored over a foreign policy magazine, showing no reaction as two people who may share a debate stage with him argued that the NSA was out of control. And even Cruz disagreed with Paul on the USA Freedom Act. Like Wyden, like the ACLU, he preferred that the bill be amended by civil libertarians before getting a vote. Paul seemed to be alone in worrying that a compromise would undo all of the work of privacy advocates.
And Weigel on what was accomplished:
Earlier in the day, Paul's office told reporters that holding the floor past midnight would prevent Senate Majority Leader Mitch McConnell from filing cloture on the Patriot Act and related bills…

Paul did not hold the floor past midnight. He finished at 11:49 p.m., greeting Massie and the supporters who had come to watch him speak, then turning to reporters to explain what hd been won.

"It was kind of nice to have bipartisan support," he said. "Really, there's unanimity among a lot of us that the bulk collection ought to end."

According to Paul, the tiring floor speech had probably slowed down the PATRIOT and USA FREEDOM timelines. Even if Senate leaders scheduled them, the hope of a quick vote before the recess had been complicated—the speech would have made that strategy infamous.

"I think it's delayed it for another day, because they're not going to do anything," he said. "After midnight, it delays it a day. And it gives us a little more leverage in trying to demand votes. It also depends what the reaction of the public is. If the public reacts in a good way, maybe they'll be more inclined to give me votes."
Public, apparently the fate of the Republic is, as (n)ever, in your hands.
Random favorite moment for me as the talk wound down, hearing Sen. Ted Cruz single out Ron Paul for praise for his role in getting our legislature to think straight about our rights.