Texas Cop Knocks Woman Unconscious in Front of 6-Year-Old Daughter
Woman was reportedly intoxicated and resisting.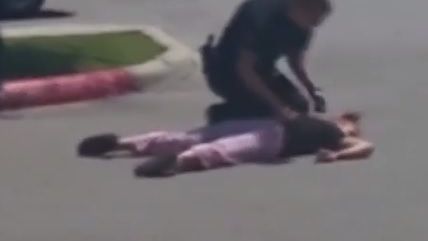 A cop in Round Rock, Texas, was caught on video slamming Viviana Keith, a DUI suspect, to the ground and knocking her unconscious in front of her 6-year-old daughter. Watch the video, via USA Today, below:
The police chief is backing his officer's action in the video with a suspect police say was described as combative, argumentative, and intoxicated by multiple 911 callers. KVUE reports:
[Round Rock Police Chief Allen] Banks has seen the dash cam video but said he has not talked with Johnson. KVUE showed him the video and asked, intoxicated or not, is this use of force necessary?

"The officer was very professional, was talking to her calm, he wasn't excited, he wasn't angry," said Banks. "It's unfortunate, the fact that this lady did what appears to hit her head and was knocked unconscious, but I'll tell you, the officer did what he was supposed to do in a situation like that."

Keith was arrested and charged with DWI with a child younger than 15 and interfering with pubic duties. As of Wednesday evening, she was still in the Williamson County Jail.
And so the world turns.
h/t Stanton Smith