Why Did Alcoholic Beverage Control Cops Beat This Black UVA Student Bloody?
And why does a state liquor agency hire cops to beat up kids?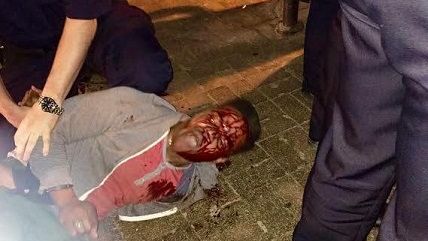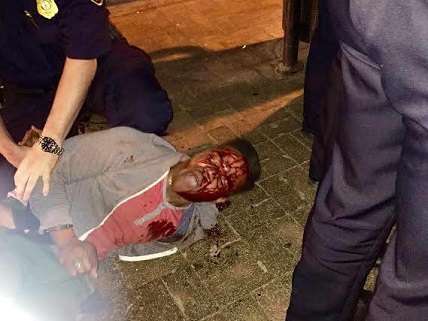 A black University of Virginia student was grabbed by cops outside a bar in Charlottesville late Wednesday night and thrown to the ground. He hit his head, suffering an injury that required 10 stitches, according to The Huffington Post. Cell phone pictures and videos of the incident show the student, Martese Johnson, pinned to the ground and covered in blood.
The cops, as it turns out, didn't work for the university; they are officers with the Virginia Department of Alcoholic Beverage Control, a state liquor agency. Apparently, the officers approached Johnson after he was turned away from a bar. They decided to detain him and eventually charged him with public drunkenness and obstructing justice.
But it's not clear why they handled him so violently, given that all eyewitness accounts seem to agree that Johnson didn't resist or fight back. He yelled at them and accused them of being "fucking racists," but that was after they had already smashed his head against the pavement.
UVA President Teresa Sullivan has asked the state to investigate the matter, and Gov. Terry McAuliffe agreed to do so. In the meantime, the campus is outraged. Two black UVA administrators criticized the officers for appalling conduct:
"His head was slammed into the hard pavement with excessive force," Martin and Apprey wrote in a statement. "The student required medical evaluation and treatment at the UVa Hospital Emergency Department. This was wrong and should not have occurred. In the many years of our medical, professional and leadership roles at the University, we view the nature of this assault as highly unusual and appalling based on the information we have received."
While it's possible Johnson did something to provoke the attack, witness statements make that unlikely. Right now, it certainly seems like this is yet another case of the police treating a minority youth with unnecessary cruelty.
And why does a regulatory agency employ a police force, anyway? Is Prohibition a worthy enough goal that the abuse of an occasional student is an acceptable price to pay? Keep in mind that this is not the first time the ABC caused a controversy at UVA. In 2013, six undercover ABC agents descended upon a student who had just purchased a case of bottled waters from a campus grocery store. The plain-clothed agents (wrongly) suspected the underage student of purchasing alcohol and drew a gun on her. She thought she was being robbed and fled in her car as they tried to break her windows. She then called the police—unaware that the police were the ones harassing her. She spent a night in jail, eventually sued, and won a $200,000 settlement.
According to Jezebel, one of the reasons for ABC agents to patrol the campus is "for the protection of women":
Graduate student Maya Hislop told me, "Black students on grounds are highly familiar with this kind of abuse (denied access to places, checking IDs of black students and not checking IDs of white students), but I do not know that it has ever been this violent."

She added, "We knew that increased police presence for the protection of women would have a negative impact on black students. It sucks that we had to be proven right this way."
It does suck. But as was the case with the terrible choking death of Eric Garner, liberals should remember that a general call for more things to be illegal—for the government to do more about a problem—is by necessity a call for increasingly vigorous policing. A demand for bigger government is essentially a request for more clashes between cops and citizens (socially-marginalized citizens, in particular).
Or, in meme form: