D.C. DOT Could Kill City's Streetcar Project
Is it time to put the H Street trolley out of its misery?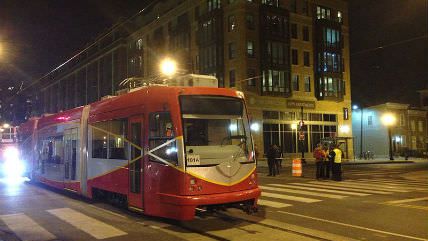 The acting director of the Washington, D.C., Department of Transportation (DDOT), Leif Dormsjo, just dropped a bombshell in a Transportation Committee public roundtable: He's open to killing the city's entire streetcar project, including the hapless, $160 million H Street N.E. line. The news comes from WAMU reporter Martin Di Caro, who tweeted the following among much other excellent coverage:



The H Street line and its ongoing travails are the subject of strong feelings among many D.C. residents. The cars, meant to traverse a roughly two-mile length of street not easily accessed by Metro, have already undergone extensive (and expensive) testing. They were supposed to be open for business in January but weren't deemed ready at that time—just the latest in a series of missed deadlines for the project.
During one of last month's snowstorms, a fire and multiple collisions were reported along the line. This led to renewed doubts about the streetcar's viability—doubts that now appear to extend to the DDOT chief himself.