Facing 15 Years to Life, Medical Marijuana Grower Testifies Against His Friends
The Kettle Falls Five trial begins with a defection.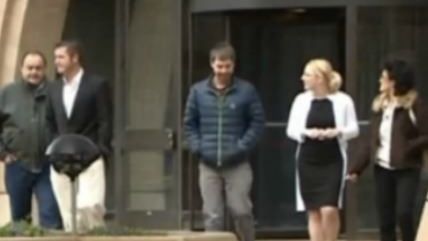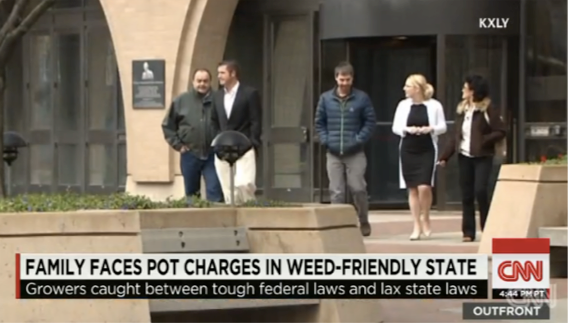 Hours before the trial in the Kettle Falls Five case began in Spokane last Wednesday, one of the four remaining defendants reached a plea deal with federal prosecutors, agreeing to testify against the other medical marijuana growers. Because of a prior marijuana conviction, Jason Zucker faced anywhere from 15 years to life in prison, so he was under a lot of pressure to cooperate with the government. Under the plea deal, he will serve just 16 months. Yet prosecutors, who have argued that Zucker and the others were growing too much marijuana for their own use and must have been selling some of it, do not seem to have helped their case much by obtaining his testimony.
Taking the stand on Friday, Zucker described how he had agreed to help Larry Harvey, who was recently dropped from the case because he has terminal cancer, and the three remaining defendants—Larry's wife, Rhonda Lee Firestack-Harvery; her son, Rolland Gregg; and his wife, Michelle—grow marijuana on the Harveys' property in rural northeastern Washington, near Kettle Falls. The defendants, all of whom had doctor's recommendations, say the marijuana was purely for their own medical use, and the number of plants they grew was below Washington's presumptive limit of 15 per patient. They are not allowed to talk about their motivation for growing marijuana in court, since it does not matter under federal law, and the defense was not allowed to ask Zucker about medical use. Still, he did not say anything that contradicted his friends' account. Here is how The Spokesman-Review, Spokane's daily newspaper, summarized Zucker's testimony:
Zucker told jurors he didn't know what the other members of the family did with their portion of the marijuana grown near Colville in 2011. He said he took his 20 to 30 pounds back to Seattle, where he smoked most of it himself and gave the rest to friends and family members. Zucker said he'd smoked weed since he was 17, and burned through roughly an eighth of an ounce per day before quitting two years ago after his indictment. Police found 8 pounds of marijuana remaining from the Colville grow in his Seattle residence when they arrested Zucker in February 2013.

"I know a lot about growing plants, and I'm good at it," said Zucker, when asked by Assistant U.S. Attorney Caitlin Baunsgard why he was initially approached to help the family set up an operation on their property.

Phil Tefleyan, a Washington, D.C., civil rights attorney hired by Rolland Gregg, pressed Zucker on his decision to testify against the family as part of a plea deal inked hours before the trial began Wednesday. He also asked Zucker if he had any evidence the family used the three weapons found on the property—a bolt-action hunting rifle, a 12-gauge shotgun and a Ruger 9?mm pistol—to protect their marijuana, or if he knew they were distributing it to other people.

"I didn't ask," Zucker said. "It wasn't related to my business."
It does not sound like Zucker provided much support for the prosecution's theory that Firestack-Harvey et al., who are charged with distribution as well as cultivation, were in the marijuana business. Prosecutors have presented evidence that the defendants paid people to trim their plants, which is consistent with a commercial operation but does not necessarily show they were selling marijuana. Conspicuously absent is any evidence of actual sales or deliveries. Even without a conviction on the distribution charge, however, the defendants face a five-year mandatory minimum for growing 100 or more plants (assuming the jurors accept the government's argument that plants grown in previous years should be counted toward the total).
The presence of guns in the Harveys' home, although not at all unusual in eastern Washington, potentially doubles that mandatory minimum sentence under a provision aimed at people who possess a firearm "in furtherance of" a drug trafficking crime. That is why Tefleyan asked Zucker whether the Harveys had guns to protect their marijuana crop. But even if that was not their main motivation for owning the guns, those weapons potentially could have been used to ward off marijuana thieves, which might be enough for a conviction.
By admitting that they grew marijuana, regardless of their motivation, Firestack-Harvey and the Greggs are admitting that they committed a federal felony. No references to state law are permitted during the trial, which is why Tefleyan got in trouble for asking a prosecution witness about the difference in price between "black market" and legal marijuana. The jurors surely are aware that marijuana is now legal for recreational as well as medical use in Washington, but that fact is irrelevant under federal law. Nor is the defense allowed to tell jurors that Firestack-Harvey and the Greggs face at least 10 years behind bars if convicted of the cultivation and weapon charges. Hence their only hope of avoiding prison lies with jurors who figure out what is going on and refuse to convict. It only takes one.