Jason Chaffetz Says D.C. Officials Could Go to Prison If They Stop Busting People for Pot
Is implementing the District's marijuana legalization initiative a felony?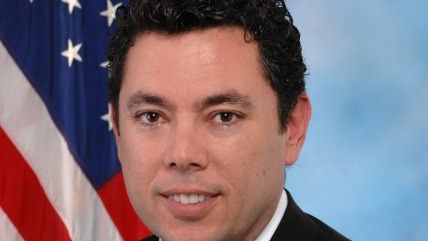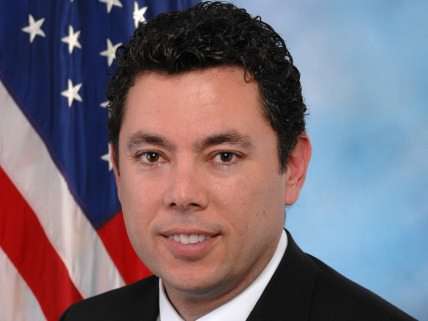 As I mentioned yesterday, the congressional review period for Initiative 71, the District of Columbia's marijuana legalization initiative, ends today. Since Congress has not passed a joint resolution of disapproval (which was always a long shot), that means the initiative takes effect after midnight, eliminating local penalties for possession, sharing, and home cultivation by adults 21 or older. Not so fast, says Jason Chaffetz, the Utah Republican who chairs the House Committee on Oversight and Government Reform. "If you decide to move forward tomorrow with the legalization of marijuana in the District, you will be doing so in knowing and willful violation of the law," he warned in a letter he sent to D.C. Mayor Muriel Bowser last night. He also threatened D.C. officials with prison if they stop busting people for pot.
Chaffetz, whose committee has purview over District affairs, was referring to the rider that Rep. Andy Harris (R-Md.) inserted into the appropriations bill Congress approved in December, barring the District from spending money to "enact" any law reducing or eliminating penalties for marijuana-related activities. Bowser, D.C. Council Chairman Phil Mendelson, and D.C. Attorney General Karl Racine maintain that the Harris amendment does not affect Initiative 71 because the ballot measure was enacted when the vote in favor of it was certified on December 3, two weeks before the spending bill was signed into law. Chaffetz, like Harris, disagrees, saying D.C. laws are not enacted until they survive congressional review:
It is a basic legal tenet that legislation is not enacted and does not become law until the final act effectuating that process occurs. Under the plain terms of the Home Rule Act, a D.C. bill does not become law until the expiration of the 30- or 60-day layover period after the bill is transmitted to Congress. The D.C. Circuit has confirmed what constitutes enactment under the District of Columbia's initiative process. The Court stated "[t]he [D.C.] initiative process is subject to the same legislative restrictions as the D.C. Council, including the congressional veto power…. " It is clear from the Court's statement that enactment of any initiative does not occur until the expiration of the 30- or 60-day layover period with Congress. Therefore, Initiative 71 was not enacted prior to the language in the Continuing Resolution preventing it from moving forward.
In the 2002 case to which Chaffetz refers, Marijuana Policy Project v. United States, the U.S. Court of Appeals for the D.C. Circuit upheld the Barr Amendment, a congressional spending restriction that blocked implementation of a medical marijuana initiative that D.C. voters approved in 1998 and prevented a similar initiative from appearing on the ballot in 2002. Notably, the Barr Amendment said D.C. could not "enact or carry out any law, rule, or regulation to legalize or otherwise reduce penalties associated with the possession, use, or distribution of any schedule I substance." The Harris rider, by contrast, applies only to enactment, not to execution. Furthermore, the Barr Amendment was in effect before the 2002 initiative was proposed, which is why the D.C. Board of Elections refused to certify the measure so that its supporters could start collecting signatures to qualify it for the ballot. That was the decision at issue in the 2002 case. Initiative 71, by contrast, was approved by voters in November, and the vote was certified well before the Harris amendment took effect.
Chaffetz suggests that the D.C. Circuit's reference to "the congressional veto power" means D.C. laws are not really enacted until after they survive review. But the implicit analogy to a president's veto power is misleading, since a bill passed by Congress does not become law unless the president signs it. Under the District of Columbia Home Rule Act, by contrast, a bill passed by the D.C. Council or an initiative passed by D.C. voters "shall take effect" at the end of the review period unless Congress exercises its (rarely used) veto power. If Congress passes a joint resolution of disapproval and gets the president to sign it before the end of the review period, the resolution "shall be deemed to have repealed such act, as of the date such resolution becomes law."
In other words, the Home Rule Act describes a piece of legislation submitted for congressional review as an "act" that "take[s] effect" automatically if Congress does nothing and is "repealed" by a resolution of disapproval. That seems like pretty strong evidence that Chaffetz is wrong and Bowser et al. are right about the legal status of Initiative 71.
But according to Chaffetz, Mendelson, the D.C. Council chairman, violated the Harris amendment when he transmitted Initiative 71 to Congress on January 13, since that action was, in Chaffetz's view, necessary to enact the initiative and required some expenditure of local or federal money, if only the value of the time that Mendelson or his staff devoted to it. Chaffetz says Mendelson "likely" also violated the Anti-Deficiency Act, which authorizes criminal penalties, including fines up to $5,000 and up to two years in prison, for federal or D.C. officials who misuse money appropriated by Congress. Chaffetz amplified that point in an interview with The Washington Post, saying, "There are very severe consequences for violating this provision. You can go to prison for this. We're not playing a little game here."
In his letter, Chaffetz suggests that anyone involved in "the transmission of Initiative 71 to Congress and developing rules for law enforcement or the general public" broke the law (and therefore might go to prison). Even if you accept Chaffetz's debatable reading of the Home Rule Act, he seems to be casting too wide a net here, since "rules for law enforcement or the general public" would be part of implementing Initiative 71, which is not covered by the Harris rider. But since his main goal is intimidating D.C. officials into submission, he may not be troubled by such legal niceties.
Update: D.C. officials do not seem intimidated. Anti-pot Republicans interviewed by the Post say they do not plan to challenge Initiative 71 in court and leave consideration of criminal charges to the Justice Department.