No Grexit for Now: Greece and Europe Reach Deal (Sort Of)
The Greeks have until Monday to say what reforms they're prepared to make.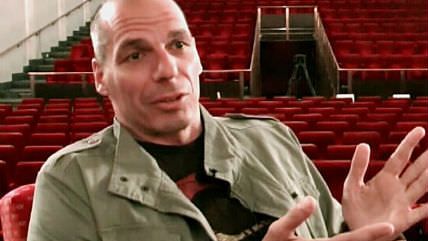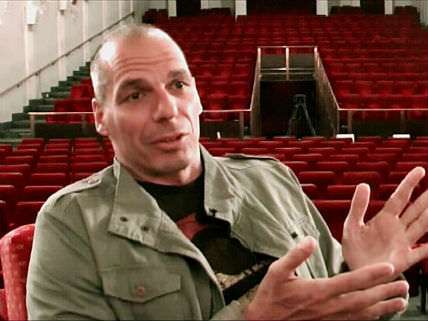 Europe's finance ministers, including Greece's Yanis Varoufakis, announced they came to an 11th-hour agreement this afternoon to forestall a Greek debt default and forced exit from the shared currency union.
It is, in many ways, a loss for Greece's far-left Syriza Party, which wanted a six month bridging loan that would release the country from its earlier promises to implement strict austerity measures (e.g., privatizing some of its ports and laying off a bunch of public sector workers). Instead, it got a four-month continuation of the "existing arrangement." This more or less obligates the Mediterranean nation not to roll back austerity, something the newly elected prime minister, Alexs Tsipras, campaigned on doing.
But neither did Greece's European creditors, headed by German Chancellor Angela Merkel, get everything they wanted. To persuade Varoufakis to sign on to the deal, the rest of the Eurozone promised to use some flexibility in evaluating the nation's progress toward gettings its fiscal house in order. This likely means that Greece will be able to spend more in 2015 than it promised under the last bailout program.
So what happens after the four-month extension runs out? Greek representatives have until Monday to present Eurozone leaders with a list of the long-term reform measures they plan to take. Then the institutions formerly known as the Troika will review that list and decide by the end of April whether Greece is promising to do enough to warrant continue aid. In the meantime, Greek banks will retain access to crucial financing, without which those banks would quickly collapse.
As I wrote Tuesday, this week has long been circled on the calendar as the deadline for an agreement to be reached. And one was reached, so catastrophe is prevented—right?
Maybe. But it seems probable that the two sides, which wanted very different things from these negotiations, will continue to war over the precise details of the reforms Greece has to promise to undertake going forward. Tsipras is seeking a dramatic overhaul of the terms and conditions of Europe's aid. (He wants a lot less, or even no more, austerity.) Germany and the others, meanwhile, expect Greece to continue working to reduce its enormous debt, which is roughly equal to 175 percent of the country's GDP.
Greece and its creditors have 69 days to get on the same page. If they can't, we'll be right back where we were this week, with the threat of Grexit once again looming.