Can We Expect 'Chaos' When Pot Becomes Legal in D.C. Next Week?
Rules for sharing, consumption, and possession may need clarification.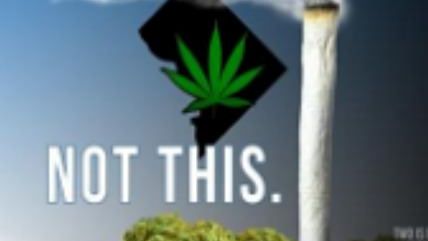 Next week Initiative 71, the marijuana legalization measure approved by voters in Washington, D.C., last November, is scheduled to take effect after surviving congressional review. When it does, Washingtonians 21 or older will no longer face local penalties for possessing up to two ounces of marijuana outside their homes, sharing up to an ounce at a time with other adults, or growing up to six plants (no more than three of which are mature at any given time) at home, where they also will be allowed to keep whatever those plants produce. Meanwhile, the D.C. Council's plans to legalize commercial production and distribution of marijuana have been blocked by a spending restriction that Congress approved in December. The result, according to The Washington Post, could be "chaos."
Although I would prefer a situation where cannabis consumers are not forced to grow their own, cadge from friends with green thumbs, or continue relying on the black market, "chaos" seems like an exaggeration to me. The challenges that D.C. will face are not very different from the challenges that Colorado faced in 2013, when it was legal to grow, share, and possess marijuana there but state-licensed retailers had not opened yet.
One of those challenges, as the Post notes, is distinguishing between sharing and selling marijuana. Initiative 71, like Colorado's Amendment 64, allows any adult to transfer up to an ounce to another adult "without remuneration," but it's not clear exactly what that means. If you grow marijuana that you intend to share with me and I pitch in by helping to cover your costs, is that "remuneration"? Does it matter whether those costs include your time as well as cultivation equipment, supplies, and electricity? Rob Corry, a Denver attorney and longtime marijuana activist, argues that it shouldn't, but he nevertheless advises clients not to seek reimbursement for their time because that looks too much like turning a profit.
What about giving marijuana away as a bonus when people purchase some other product or service? In Colorado police look askance at a transaction that seems like an obvious dodge, such as giving away pot when someone buys an unusually expensive bong or Bob Marley poster. Police also take a dim view of "free" marijuana with a hefty delivery fee or suggested "donation."
By contrast, businesses that specialize in cannabis tourism are probably on safe ground when they share marijuana with customers because the value of the pot is small compared to the cost of a tour. "If we give them $100 of weed, and we charge them $2,000 for a weekend," says Nick Brown of Denver's Spiro Tours, "it's hard for anyone to argue that we're selling weed for $2,000, because they could just come in and buy it themselves."
The Post mentions the possibility of "high-end catered dinners cooked in ­marijuana-infused oils," which might pass muster if the culinary experience is refined enough to justify the high price, independent of any psychoactive effect. A safer approach might be a cannabis cooking class where customers pay for the instruction but also receive all the materials they need to make the dishes. The important thing is to avoid transactions that look too much like pot sales in disguise.
Another issue raised by the Post, marijuana's continued illegality under federal law, is not unique to D.C. either. "Marijuana possession will remain punishable by up to a year in jail if found on someone on the Mall, in Rock Creek Park or in almost any city traffic circle," the Post notes, "since they are the provinces of the U.S. Park Police" or other federal agencies. Residents of Colorado, Washington state, Oregon, and Alaska would run a similar risk if they carried pot into locations overseen by the federal government, such as national parks or federal courthouses. In fact, the federal government controls more of the land in those states than it does in Washington, D.C. Then again, the patchwork of areas patrolled by federal law enforcement agencies in the nation's capital may pose special challenges.
One way in which Initiative 71 differs from the first phase of Amendment 64 is its treatment of cannabis consumption outside the home. "Consumption that is conducted openly and publicly" remains a petty offense under Colorado law, leading to much dispute about how to construe that phrase, which some jurisdictions, including Denver, read to ban marijuana use pretty much everywhere outside of private residences. Initiative 71, by contrast, says "nothing in this subsection shall be construed to prohibit any person, business, corporation, organization or other entity, or district government agency or office, who or which occupies, owns or controls any real property, from prohibiting or regulating the possession, consumption, use, display, transfer, distribution, sale, transportation or growing of marijuana on or in that property."
In the absence of an explicit ban on public marijuana use, that provision seems to let business owners decide for themselves whether to allow cannabis consumption on their property. D.C. Council Member David Grosso, author of the marijuana regulation bill that the District was considering before Congress ordered it to stop, told the Post he recently asked Mayor Muriel Bowser "what happens when a restaurant or a club has a smoking section outdoors and people light up" but did not get an answer. Given what Initiative 71 says, it seems to me that pot smoking should be allowed anywhere tobacco smoking is allowed, while other forms of cannabis consumption should be permitted in a wider range of settings, subject to the owner's approval.
In a column last month, I explained why the anti-drug rider that Congress passed in December does not stop Initiative 71 from taking effect.