Is Journalist Barrett Brown a Political Prisoner? Q and A with Free Barrett Brown's Kevin Gallagher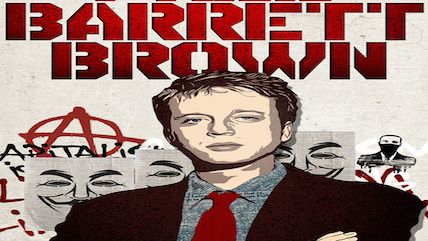 Journalist and activist Barrett Brown was sentenced to more than 5 years in prison last month, after pleading guilty to charges related to his role in 2011's "Stratfor hack." The strange and confusing case was triggered when Brown shared a link in an online chat room which pointed to files stolen by the hacker group Anonymous from the intelligence firm Strategic Forecasting.
Last year, Reason TV's Zach Weissmueller spoke with Kevin Gallagher, the director of Brown's legal defense fund, about the political motivations behind Brown's prosecution.
"Is Journalist Barrett Brown a Political Prisoner? Q and A with Free Barrett Brown's Kevin Gallagher": Produced by Zach Weissmueller. Camera by Jim Epstein. Approximately 9 minutes.
"It's a politically motivated prosecution… persecution really," says Kevin Gallagher, director of the Free Barrett Brown legal defense fund. "They're very willing and able to prosecute journalists and activists and people who are critical of the state or corporations. And that's really what Barrett was looking into, was this collusion between the government the the private intelligence industry."
Barrett Brown is a journalist and online activist who sometimes spoke on behalf of the "hacktivist" collective known as Anonymous. He ran into trouble with the federal government in 2012 after posting a link to leaked material obtained from a hack of private intelligence agenices Stratfor and HBGary. Although Brown did not perpetrate the hack, the FBI raided his home and seized several of his laptops and and hard drives without charging him.
What really incensed Brown, however, was when the government threatened his mother with an obstruction of justice charge for allegedly hiding one of Brown's laptops from FBI agents. Brown began posting a series of videos to YouTube, which are still publicly available. Because of these videos and some of Brown's online writings, the FBI raided Brown again and arrested and charged him with threatening federal agents in addition to several hacking charges related to posting the link. All told, Brown faced up to 105 years in prison.
Brown has been sitting in prison for the past two years awaiting trial, unable to speak out due to a government gag order. A judge lifted that gag order just last week, and court documents reveal that Brown has accepted a plea deal to three charges: transmitting a threat in interstate commerce, accessory after the fact to unauthorized access to a protected computer, and interfering with the execution of a search warrant.
The judge will hold a change of plea hearing and set a date for Brown's final sentencing tomorrow, where he could face a maximum of 8 1/2 years. To delve deeper into this case and learn what it means for online and press freedom in America, watch Reason TV's interview with Kevin Gallagher above, conducted just a day before the gag order was lifted.