Justin Amash Chastises Marco Rubio Over PATRIOT Act Reauthorization Stance
The Michigan representative didn't pull his punches at the International Students for Liberty Conference.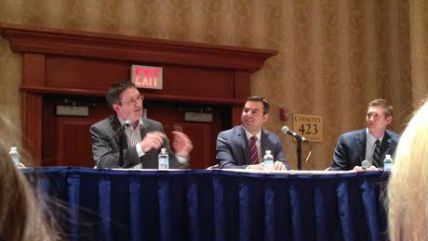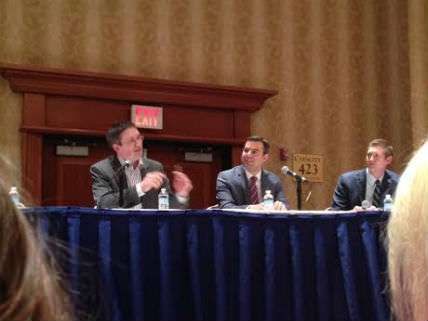 Rep. Justin Amash (R–Mich.) threw some shade at Sen. Marco Rubio (R–Fla.) today over the latter's support for permanently reauthorizing the PATRIOT Act.
The congressman was asked during a panel at the 2015 International Students for Liberty Conference, happening now in Washington, D.C., how he felt about the idea that Congress should "rubberstamp" reauthorization of the controversial law. Amash responded: "I think it's embarrassing to say things like that. It reflects a lack of awareness of what the American people think and what the Constitution says. And if [Rubio] thinks that that is the future of the Republican Party, he is very wrong."
Amash said the GOP's job is to stand for liberty, protect people's rights, and curb corporate welfare, adding, "I think we have a great group of people who are pushing the country in the right direction. And we've got some people like Sen. Rubio who want to take us backward, and move the party in the wrong direction, and make it into a very small party."
Rubio staked out his position in an op-ed for FoxNews.com back in January in which blasted President Obama for putting "the U.S. war against Islamic extremism" on hold. He wrote at the time:
The U.S. government should implore American technology companies to cooperate with authorities so that we can better track terrorist activity and monitor terrorist communications as we face the increasing challenge of homegrown terrorists radicalized by little more than what they see on the Internet.

This year, a new Republican majority in both houses of Congress will have to extend current authorities under the Foreign Intelligence Surveillance Act, and I urge my colleagues to consider a permanent extension of the counterterrorism tools our intelligence community relies on to keep the American people safe.
Amash's harsh words were a doubling down of sorts: After Rubio's piece was published, the congressman retweeted a link along with the word, "Disqualified."
The PATRIOT Act was passed in the wake of 9/11 to give intelligence officials expanded surveillance tools for use in fighting terrorism. Several key provisions of the law are set to expire this year.