Gun Rights and Civil Rights Go Hand-in-Hand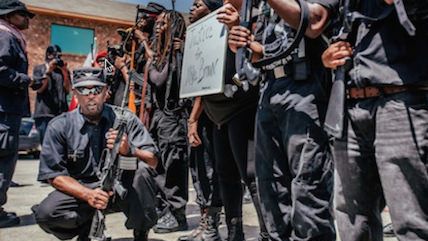 Initially Posted Feb. 5, 2015. Original text below:
"We are proposing armed self-defense as it relates to the situation with black people here in America when it comes to dealing with police departments," says Charles Goodson, founder of the Huey P. Newton gun club, an open carry group based in Dallas.
Reason TV attended a meeting of the gun club and spoke to Goodson and others about their goals and how they hope to accomplish them. And historian Thaddeus Russell talked about the long, intertwined history of the gun rights and civil rights movements, from slave revolts to Reconstruction-era resistance to the Klan to the Black Panthers.
"One of the great untold stories about the civil rights movement was that it required violent resistance from blacks to be effective," says Russell.
Approximately 7 minutes. Produced by Zach Weissmueller. Music by Tim Sky and Flausch Gau.
Scroll down for downloable versions of this video, and subscribe to Reason TV for daily content like this.