Draconian NCAA Marijuana Policy Keeps Players Out of Football Championship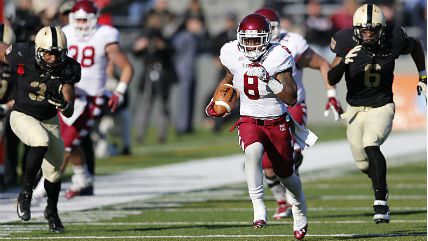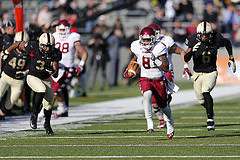 Oregon will be a mild favorite in the first-ever College Football Playoff championship game tonight. But the team will be forced to take the field without two key players, freshman wide receiver Darren Carrington and senior special teams player Ayele Forde, who reportedly tested positive for marijuana and have been suspended.
This kind drug of policy is common in professional and collegiate sports. Some recent high-profile cases include Cleveland Browns receiver Josh Gordon landing a full season suspension (later reduced to 10 games) for repeated marijuana infractions before the start of the 2014 season, New York Knicks guard J.R. Smith getting a five-game suspension in 2013, and Houston Astros prospect Jonathan Singleton receiving a 50-game suspension for a second drug violation in 2013. (Luckily, most punishments today are only forward-looking and not retroactive. At the 1998 Winter Olympics, Canadian snowboarder Ross Rebagliati was nearly stripped of the Games' first snowboarding gold medal when he tested positive for marijuana after the fact.)
The marijuana policy of the National Collegiate Athletic Association (NCAA) is many times stricter than other leagues', though. A college athlete need only register five nanograms of THC (the main ingredient in marijuana) per milliliter of blood to test positive, compared to 35 nanograms in the National Football League (NFL), 50 nanograms in Major League Baseball (MLB), and 150 nanograms for the Olympics.
Mason Tvert, the director of communications for the Marijuana Policy Project, said in an interview with Sports Illustrated's Pat Forde that the NCAA's policy has "a very, very low threshold…Someone could fail even if they last used days or possibly weeks ago."
The NCAA is a private organization, free to implement whatever drug policy it so chooses. But because it receives hundreds of millions in tax exemptions and the majority of member schools are public institutions, its draconian policy would seem to have the tacit endorsement of the government. This is especially odd because 16 percent of all Division I athletes have admitted to using marijuana within the last year. Moreover, Oregon is one of four states that have passed legislation legalizing recreational marijuana use—though the policy does not go into effect until July 1.
As with other attempts to legislate morality, it's difficult to persuade people to campaign for change. The stigma of being a pot supporter is likely to outweigh any individual gains an athletic director or coach may receive from reform. And the rhetoric around these issues makes it seem as though athletes have committed a grievous, devastating act in using marijuana. When Arizona Cardinals linebacker Daryl Washington was suspended for the entire 2014 season, Cardinals general manager Steve Keim released a statement saying, "Our hope is that this suspension will give Daryl the opportunity to accept the necessary help and guidance to get his life back on track."
Some athletes are speaking out, however. After Milwauke Bucks forward Larry Sanders received a five-game suspension last year, he candidly told a reporter:
"It's a banned substance in my league. But I believe in marijuana and the medical side of it. I know what it is if I'm going to use it…I study it and I know the benefits it has. In a lot of ways we've been deprived. You can't really label it with so many other drugs that people can be addicted to and have so many negative effects on your body and your family and your relationships and impairment. This is not the same thing…The stigma is that it's illegal. I hate that. Once this becomes legal, this all will go away."